Safe Kids Southeastern Pennsylvania Coalition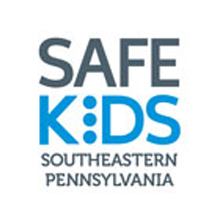 The Safe Kids Southeastern Pennsylvania Coalition was formed in 1988 as part of Safe Kids Worldwide, a global network of organizations whose mission is to prevent accidental childhood injuries, a leading killer of children 14 and younger. Safe Kids Southeastern Pennsylvania is a local, grassroots Coalition that covers Delaware, Montgomery and Philadelphia Counties.
Why we exist
Unintentional injury is the leading killer of children ages 1 to 14 years. This year, 1 in 4 children will suffer an injury serious enough to require medical attention. Injuries are the second leading cause of hospitalization and the leading cause of emergency room visits among children less than 14 years of age. Most injuries are easily preventable!
Who we are
The Safe Kids Southeastern Pennsylvania Coalition is comprised of health, medical, safety and community organizations as well as local businesses working together to fight childhood injuries. 
Please call 215-590-KIDS (5437) for more information.
How to join or contact your local Safe Kids Coalition
Visit Safe Kids USA to find the coalition nearest you. If you are in Delaware, Montgomery or Philadelphia Counties, PA, call 215-590-5437.
To learn more, please visit Safe Kids Worldwide and Safe Kids Pennsylvania.