Why Choose Us For Cancer Treatment
Top-ranked for Cancer Care
The Cancer Center at The Children's Hospital of Philadelphia is top ranked in U.S. News & World Report's rankings of Best Children's Hospitals. Our center is also ranked No. 1 in the nation in Parents magazine's 2013 report of 10 Best Children's Hospitals.
U.S. News: Top-ranked cancer care
The Cancer Center is ranked No. 3 in the nation according to U.S. News & World Report. CHOP ranks No. 2 on the U.S. News 2015-16 Honor Roll of the Best Children's Hospitals.
To create the rankings, U.S. News surveyed pediatric specialists across the country about where they would send the sickest children for various conditions. They also asked the nation's 183 children's hospitals to provide specific clinical data.
The Children's Hospital of Philadelphia earned high marks for our dedication and expertise across multiple specialties. At CHOP, your child will benefit from the quality of our treatment, superior nurse-patient ratios, higher survival rates, ongoing research, and much more.
Parents magazine 10 Best Children's Hospitals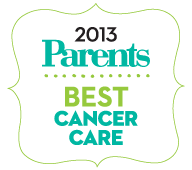 CHOP's ranking as the best pediatric hospital in the nation by Parents is based on a comprehensive, data-driven survey. CHOP was ranked in the top 3 in all 6 specialties included in the survey.
Parents magazine's exclusive list of 10 Best Children's Hospitals provides the most comprehensive family focused data-driven comparison of pediatric facilities. In compiling the list, Parents focused on key areas including treatment success, groundbreaking research and family-friendly facilities.
Highlighted in the Parents report were the cancer breakthroughs that have been made at CHOP, including CTL019, a clinical trial of T cell therapy for patients with B cell cancers such as acute lymphoblastic leukemia (ALL) and B cell non-Hodgkin lymphoma (NHL). Dr. Stephan Grupp leads CTL019 efforts at the Hospital.
Recognized Leader
Children experience cancer differently than adults do and respond better when they're treated in a place dedicated to their unique needs.
The Cancer Center is a recognized leader in pediatric cancer treatment and research.
We have some of the top clinicians in the world, as well as leading researchers who are dedicated to studying the very cancers that we treat. This collaboration between oncologists and researchers allows us to fast forward advances in research and treatment to benefit our patients more quickly.
We also provide a level of support to families that is not always available in other centers. Together, more than 175 staff members specifically support oncology patients and have the resources to meet any need a family may have.
Cancer Center of Excellence
For these reasons and many more, CHOP is recognized as a Cancer Center of Excellence by OptumHealth (a subsidiary of United Health), Coventry, Interlink, Cigna LifeSOURCE and Blue Cross Blue Shield Centers of Distinction.
Only those cancer programs that have met OptumHealth's strict evaluation criteria are considered for inclusion in the Cancer Centers of Excellence network. Criteria include:
Multidisciplinary approach to healthcare
Program depth and breadth
Best practice medicine
Patient and family-oriented programs and services
High patient volume and surgical volume
Treatment planning and coordination
Positive working relationships with referring physicians and payers
Exceptional clinical research
Patient satisfaction survey results
Here are some other reasons to choose CHOP for your child's treatment:
Reputation
Parents ranked the Cancer Center No. 1 in the nation for pediatric cancer care, as reported in the magazine's 2013 list of 10 Best Children Hospitals.
We're top ranked for Cancer Care and every pediatric specialty, according to U.S. News & World Report's 2014-15 survey of Best Children's Hospitals.
Some of the world's most renowned pediatric oncologists head the Cancer Center, and they have expertise in every area of childhood cancer.
We house the nation's first pediatric survivorship program, which monitors late effects and promotes health after cancer.
We are a leader in family-centered care and provide many amenities and avenues of support for families.
Expert staff
More than 70 pediatric oncologists and oncologic surgeons with expertise in every type of pediatric cancer
27 oncology nurse practitioners
77 oncology nurses
11 social workers
6 Ph.D.-trained psychologists and neuropsychologists
14 child life specialists
2 financial counselors
3 intake coordinators
We also offer access to world renowned experts in many specialties to treat the side effects that children often have from cancer treatment.
Volumes
We treat more than 500 new patients and more than 4,000 previously treated patients each year.
We are one of the world's leading treatment centers for refractory neuroblastoma, the most common pediatric solid tumor outside of the brain.
Our Brain Tumor Program is one of the largest in the U.S. — we see more than 200 new patients each year.
Our pediatric Blood and Marrow Transplant (BMT) Program is one of the largest in the U.S., performing an average of 80 transplants per year.
Research and innovation
We are a Children's Oncology Group Phase I and Phase II institution, able to offer clinical trials for new treatments for childhood cancers.
We have a comprehensive portfolio of clinical trials for relapsed cancers, many of which were developed here at CHOP. Search for a clinical trial.
The Center for Childhood Cancer Research conducts basic, translational and clinical research geared toward finding a cure for childhood cancer.
Our Center for Applied Genomics is one of the world's largest genotyping programs, identifying gene variations that may be associated with pediatric cancer.
We offer proton therapy in one of only a few proton therapy centers in the U.S. designed with children in mind, and facilitated by pediatric cancer specialists.
We offer unique programs for those genetically predisposed to cancer and those who wish to preserve their fertility.
We offer the only dedicated pediatric PET/CT scanner in the Northeastern U.S., a highly useful tool in detecting many cancers and measuring treatment responses.
Reviewed on August 12, 2014