Brittany Rotonda shares her experience living with tetralogy of Fallot and how she found comfort and hope when she wanted to have her own child.
Living with tetralogy of Fallot has been part of my life, but it has by no means controlled my life. I simply won't let it.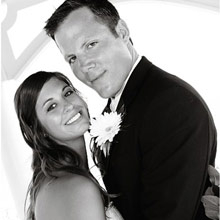 I am fortunate enough to have no memory of my early surgeries to treat my tetralogy of Fallot. I had a shunt repair at 6 months of age and then my open heart surgery when I was a little over 1 year old at Yale-New Haven Hospital in Connecticut. It amazes me how happy and healthy I looked in photographs a few days after my surgery.
Growing up, you would never have known I had a heart defect. I never looked or acted any different than my peers. I was always very active and participated in many sports. In fact, I was the fastest girl in my third-grade class!
My doctors never limited my physical activity. I grew up playing softball, and in high school, I played both varsity field hockey and softball. As a young adult, I lived a healthy lifestyle and exercised four or five days a week. I worked out consistently and would run two to three miles on the treadmill daily.
Living with CHD as an adult
In 2004, I graduated from the University of Delaware and continued to visit Yale-New Haven Hospital for annual checkups. I was now living in the Philadelphia area, so my doctor referred me to the Philadelphia Adult Congenital Heart Center, where physicians from The Children's Hospital of Philadelphia (CHOP) and Penn Medicine collaborate to care for adult patients with congenital heart disease.
I was very impressed with the program and the doctors. They had full knowledge of my medical background and I instantly felt a connection to the team that was caring for me.
During my first visit, my CHOP cardiologist informed me that I would need another surgery down the road to repair my pulmonary heart valve. There had been a leak in the valve since my first open heart surgery, and over the years, the leak got worse. I didn't think much of this news since I was 21 years old and "down the road" meant 20 more years to me.
In 2008, I got married and my husband and I continued to visit CHOP annually. After my first CHOP cardiologist left, I started seeing Richard Donner, MD, a pediatric cardiologist at CHOP and part of the Adult Congenital Heart Disease Program team. At our visits, my husband and I told Dr. Donner about our hopes and dreams of starting a family. Dr. Donner recommended that I continue to get annual cardiac MRIs to monitor the leak in my pulmonary valve and to notify him when we were ready to start trying for a baby.
Open heart surgery to repair valve leak 
In August 2010, my husband and I decided we wanted to start trying for our baby. I went in for a cardiac MRI in late August. Dr. Donner called me over the weekend with the results of the MRI and shared the news that the leak was significant enough that I should put off getting pregnant until my valve was repaired. He recommended that my valve be repaired within six months.
This news came as a shock to me. Why did I need open heart surgery when I felt completely healthy? I was exercising daily and was in the best shape of my life! I just couldn't wrap my head around the fact that I would be having open heart surgery.
Yes, I had surgery before, but I was 1 year old and didn't remember a thing. It was a different experience now: I was fully aware of the risks of surgery along with the pain I would feel during recovery.
Comfort and hope
I had many questions and fears, but Dr. Donner did an excellent job of answering all my questions and putting my fears to rest. He answered every email I sent and would even make himself available for phone calls in the evening hours. He also made time to discuss the surgery with my mother over email and by phone. He truly put my mind at ease and comforted me throughout the months leading up to my surgery.
We scheduled my surgery for Dec. 1, 2010, with Stephanie Fuller, MD, one of three cardiothoracic surgeons at CHOP. Dr. Fuller also took the time to contact me by email and never hesitated to answer my million questions. I had never met Dr. Fuller but already knew that she was the right surgeon for me.
It was also during this time that I started connecting with other women who had this surgery through the Adult Congenital Heart Association message boards. Their stories about how they had valve replacements and went on to have healthy pregnancies gave me hope.
I met with Dr. Fuller on Nov. 18, 2010 (my 28th birthday). She went over the surgery and recovery with my family and me. She answered all our questions and was just as sweet as could be. When we left the office that day, my family and I felt so relieved that Dr. Fuller was my surgeon. She was so genuine and truly treated us like family.
Surgery, then pregnancy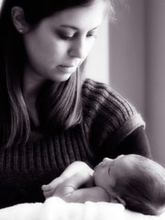 Photo by Jennifer Snopkowski Photography. My surgery went very well. I was up and walking the very next day! I knew I had a long road ahead, but I was relieved the surgery was over. I was released from CHOP three days after my surgery and spent the next eight weeks at home recovering with the help of my family. I got stronger and stronger with each day and before I knew it, I was back at work.
At one of my post-op checkups, Dr. Donner mentioned I should wait three months before trying to get pregnant. Never in a million years would I have actually thought that I would get pregnant three months after the surgery! But to our surprise, in March 2011 my husband and I found out that we were expecting a baby who was due in November 2011. We were so excited and happy and I just couldn't believe how blessed we were. I survived this major surgery and now we were starting our little family that we always wanted. 
Fulfilling my dreams
I had a healthy pregnancy and Preston Jamie was born on 11/11/11. He is truly a miracle and a blessing and is as healthy as can be!
I cannot believe that a whole year has gone by since my valve replacement. Last year at this time, I was out on sick leave from work and now I am out on maternity leave with my little baby boy in my arms.
I always dreamed of becoming a mother and I didn't let a little heart condition stop me.
I simply wouldn't let it.
 
By Brittany Rotonda, December 2011