The Morning Call Features Transplant Patient's Unique Story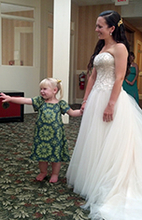 Josie and Rachel before Rachel's wedding July 6, 2013 — In 2010, 4-month-old Josie Crawn's parents watched as their daughter's liver slowly deteriorated. As doctors at The Transplant Center at The Children's Hospital of Philadelphia listed her for an organ transplant, they felt helpless. Days later, Josie's life was saved by a liver donation from 20-year-old Ethan Moyer, who was killed by a drunk driver.
In the years since the transplant, the two families have formed a unique bond, and recently, Josie was the flower girl in Ethan's sister, Rachel's wedding. "When it came to picking a flower girl, Josie was the first one I thought of. We just thought how amazing and cool that would be," says Rachel.
Read the full story and watch a video from the Morning Call »