Meredith Warmington-Fluharty's routine 20-week ultrasound was normal — with the exception of a slightly larger right kidney detected in her second child, a girl. At the 28-week ultrasound, however, the results were devastating for the Bridgewater, NJ, mother-to-be and her husband, Jeff.
The baby's kidney was fine, but the test showed she had a sacrococcygeal teratoma (SCT), a tumor located at the base of her tailbone (coccyx). Although rarely malignant, an SCT can grow rapidly to almost the size of the fetus and cause both fetal and maternal problems.
The couple was shocked and distraught.
"Don't even research it on the Internet," Meredith's local New Jersey obstetrician counseled. "We will handle it."
"I had never even heard of SCT before," Meredith says. "I didn't know what to do, and didn't want to share the shocking news with anyone but our family."
Asking for help
Rowan and her dad during her time in the Hospital. Jeff, like Meredith, was an elementary school teacher. When he returned to work the next day in a state of shock, he ended up sharing the diagnosis with the school's nurse. She volunteered to call her former college roommate, a nurse at the Center for Fetal Diagnosis and Treatment (CFDT) at The Children's Hospital of Philadelphia (CHOP).
The Fluharty's got a call back from CHOP immediately.
"The nurse explained the condition, and told us that the team at CHOP could do the surgery to remove the tumor," says Meredith. "I felt so comfortable talking to the nurse, I decided to go with Children's for the surgery. I didn't want to hear it was OK, and not to worry. I liked how serious CHOP was about the condition."
Most sacrococcygeal teratomas diagnosed in neonates are not likely to be malignant, and the prognosis tends to be good after surgery to remove the tumor. However, SCT can lead to serious problems in the fetus, including fetal hydrops (heart failure), polyhydramnios (too much amniotic fluid) or premature delivery. The mother's health can also be jeopardized through what is called "maternal mirror" syndrome, in which the mother's condition mirrors that of the sick baby.
Coming to CHOP
Meredith went to the Center for Fetal Diagnosis and Treatment for what she calls a marathon day of testing with advanced ultrasound, a fetal echocardiogram and MRI imaging.
"They answered my questions and were great at setting up a treatment plan," recalls Meredith. "I felt I was in the right place."
The mother-to-be then made the hour-plus trip to CHOP every week where the team at the CFDT continued to monitor the tumor's growth. Meredith recalls she would hold her emotions together during the week — until she reached the Center and the examination room.
"Then I would start crying," she says. "The staff was so comforting, I guess I felt I could let my guard down."
As their baby developed, the tumor started to increase in size. At 33 weeks, the baby weighed 4 pounds — and the tumor about half of that.
Labor, birth and surgery
During one of the visits to CHOP, Meredith began to have lower back pain. The Fetal team determined she was in labor. And since the couple had their 2-year-old son Riley with them at the time, Meredith recalls how the nurses and social worker pitched in to take care of him until a family friend was able to travel to CHOP to bring him home.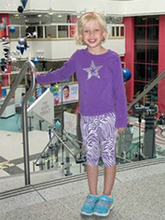 On Jan. 18, 2006, Rowan Fluharty was delivered in CHOP's Garbose Family Special Delivery Unit via cesarean section. She weighed about 5 pounds and needed a substantial blood transfusion equal to one and a half times the amount of her blood. Rowan was immediately taken to the Newborn/Infant Intensive Care Unit (N/IICU), and surgery was scheduled for the next day to remove the massive SCT.
The complicated surgery lasted about six hours. And although Rowan did well after the surgery, she didn't open her eyes until about 10 days of age. Meredith clearly remembers the first time.
"She knew my voice by then and would move around when I spoke," she says. "At one point, I was talking to her and she actually opened her eyes. I was sobbing with joy."
Growing and thriving  
Rowan continued to reach all of her developmental benchmarks, and grew into a strong, active toddler who could hold her own with her older brother.
Meredith lauds the N/IICU nurses, the Ronald McDonald House staff where she stayed during the baby's recovery, and the entire Fetal team.
"We felt so supported at CHOP; we weren't going through it alone," she says. "We are forever grateful to the team for their kindness, consistent support, and all that they have done for our daughter.
"It was a tough year, but looking at Rowan now, you would never know she had the tumor."
Checking in on Rowan eight years later
Rowan has grown up into an energetic, creative and friendly 8-year-old. She loves soccer, American Girl dolls, the Beatles, and Mexican food. In 2013, Rowan became a big sister to her baby brother Henry. She and her big brother, Riley, love having a new sibling.
Besides some minor medical issues, Rowan lives a healthy and active lifestyle. She is proud of her story, her scars, and the obstacles that she had to overcome at birth.
Rowan only needs to return to The Children's Hospital of Philadelphia once a year now, and she always looks forward to her visits. Her mom and dad will be forever grateful for the lifesaving care and support that she received at CHOP.

Originally posted: June 2009
Updated: March 2014