Leading the Fight Against COVID-19
At Children's Hospital of Philadelphia (CHOP), we have been finding the right answers to previously unsolvable problems for 165 years. Our physicians and scientists develop new vaccines, invent pioneering surgical techniques, and use gene and cell therapies to treat a spectrum of diseases.
Discover the Difference We're Making
Today, we are using our incredible expertise to grow the body of medical knowledge to effectively treat COVID-19. By making research advances and sharing what we learn, we aim to make a difference in the fight against COVID-19 here and across the world.
CHOP Scientists Identify Targets for COVID-19 Vaccine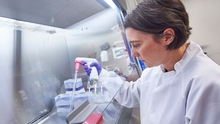 Cancer researchers at CHOP have harnessed tools used for the development of cancer immunotherapies and adapted them to identify regions of the SARS-CoV-2 virus to target with a vaccine, employing the same approach used to elicit an immune response against cancer cells to stimulate an immune response against the virus.
View more