CHOP Ranked Among the Best Children's Hospitals by U.S. News & World Report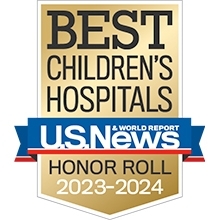 Children's Hospital of Philadelphia (CHOP) continued its 15-year streak of being ranked as one of the top children's hospitals in the United States. CHOP was ranked No. 2 on U.S. News & World Report's 2019-20 Honor Roll of Best Children's Hospitals. When you bring your children to CHOP, you can be confident they will receive the best care in the country.
U.S. News also evaluated programs in 10 specialty areas. We are proud that CHOP was listed among the top seven programs in each of the 10 ranked specialties for 2019-20, and seven of our specialties are ranked first, second or third:
Why the rankings matter
When creating its ranking, U.S. News relies on clinical data, supplied by the nearly 200 pediatric hospitals it surveys, and on an annual survey of nearly 11,000 pediatric specialists across the country. The rankings methodology considers patient outcomes, such as mortality, complications and infection rates; efficiency and coordination of care delivery, and compliance with "best practices." Surgical success rates, adequacy of nurse staffing, procedure and patient volume, availability of programs for particular illnesses and conditions, and much more were components of the survey.
No other pediatric hospital in our region has ever been named to the U.S. News Honor Roll.
It is the recognition of CHOP's excellence and expertise across the broad spectrum of services — even when we care for the most complex and sickest children — that led to our place on the Honor Roll. The quality of our care and treatments, superior nurse-patient ratios, commitment to safety, emphasis on family-centered care, and groundbreaking research means your child is in good hands at Children's Hospital.