Diversity, Equity, and Inclusion
Children's Hospital of Philadelphia is committed to providing the highest-quality gender-affirming care to our LGBTQA+ patients and families. In light of recent events in other parts of our country, we stand with our colleagues at other children's hospitals and transgender and non-binary (TNB) youth and their families across the globe. We invite you to call on your senators to pass the proposed expansions of the Equality Act as a key way to ensure protections against state laws that target TNB youth. For more information, please see the Children's Hospitals Associations' Statement of Support for the Health and Well-being of Transgender Youth.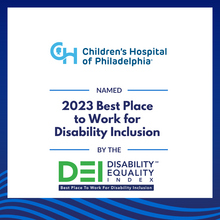 Creating a safe, culturally competent, diverse, inclusive and caring environment is at the foundation of everything we do at Children's Hospital of Philadelphia (CHOP). As a leading pediatric healthcare system, we know how many individual lives we impact on a daily basis, and we take our responsibility seriously to uphold these values and standards.
Inclusion and diversity are critical drivers for creating the ideal experience for every patient, family, employee and member of the communities we serve. CHOP's Office of Diversity, Equity, and Inclusion (ODEI) empowers and supports our diverse workforce, patient population and community to advance Children's Hospital of Philadelphia's mission of excellent patient care, innovative research and quality professional education.
CHOP Joins Pennsylvania Hospitals in Pledge to Combat Racism
We, along with other Philadelphia-area hospitals, are committed to combating racism, inequality and discrimination in all its forms.
View more
Resources for Patients and Families
Children's Hospital of Philadelphia offers a wide variety of services and programs to support patients and families, with the goal of making everyone's experience with our healthcare network as easy, comfortable and supportive as possible.
Professional and Educational Resources
An essential part in ensuring we continue to deliver high-quality care and innovation is the ability to develop and nurture diversity throughout our workforce. You'll find these efforts embedded throughout a variety of programs and initiatives enterprise-wide, which contributed to our recognition by Forbes on its 2022 list of America's Best Employers For Diversity.
Community Resources
Our commitment to diversity and inclusion extends to the work we do throughout our community, through a wide variety of community outreach programs, and in how we approach our business partnerships.
Diversity and inclusion is key priority at Children's Hospital of Philadelphia and is made up of staff and teams from across the Enterprise. Our diversity and inclusion partners and teams provide expert counsel, strategies and programming to:
Engage our workforce through diversity initiatives
Partner in the workplace to ensure culturally competent services for our patients and their families
Support our surrounding communities through efforts to reduce healthcare disparities and advance economic opportunity
In addition to key leaders in the Office of Medical Staff Affairs, Research Institute, Executive Offices, External Affairs, and Human Resources, there is also a dedicated Office of Diversity, Equity, and Inclusion team.
---
You Might Also Like