Awards, Accreditations and Recognition
U.S. News & World Report Consistently Ranks CHOP Among the Nation's Best Children's Hospitals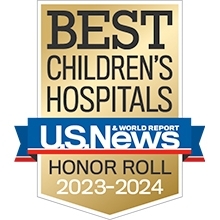 Every year since 2007, when U.S. News and World Report published the first ranking of U.S. children's hospitals, Children's Hospital of Philadelphia (CHOP) has been among the top-ranked institutions in the country. We are proud to once again be on the prestigious Best Children's Hospitals Honor Roll in the 2023-24 U.S. News and World Report rankings. Only 10 pediatric hospitals across the nation are on the Honor Roll.
CHOP also excelled in U.S. News' evaluation of specialty areas. Eight of our specialties are ranked in the top five for 2023-24, led by the #1 ranked Division of Orthopaedics.
U.S. News also ranked Children's Hospital No. 1 in the Mid-Atlantic Region, and No. 1 in Pennsylvania.
The Department of Pediatrics at the University of Pennsylvania's Perelman School of Medicine, located at CHOP, has been ranked as the No. 1 Department of Pediatrics in the country by U.S. News for 10 consecutive years.
Ranked No. 1 on Forbes' 2022 List of America's Best Large Employers
CHOP is proud to be ranked No.1 on Forbes' 2022 list of America's Best Large Employers. The recognition highlights CHOP's implementation of various programs designed to help its employees navigate the uncertainty of the COVID-19 pandemic, including offering more flexibility in scheduling and split shifts, bringing back retired nurses and offering subsidized childcare through the YMCA. These and other initiatives helped CHOP secure the top spot.
According to Forbes, the organization partnered with market research firm Statista to survey 60,000 Americans working for businesses with at least 1,000 employees. Participants were asked to rate their willingness to recommend their employers as well as asked to rate their companies on factors such as working conditions, development opportunities and compensation.
Forbes also recognized CHOP on its 2022 list of America's Best Employer's for Diversity.
Named Among Most Innovative Children's Hospitals by Parents Magazine
CHOP was named one of Parents Magazine's Top 15 Children's Hospitals in Innovation and Technology in 2020. Parents Magazine surveyed 50 leading children's hospitals, inquiring about innovations, response to the pandemic, and technology used on a regular basis. Members of the Parents advisory board then helped to determine the best out of more than 200 innovations that were submitted.
CHOP was recognized specifically for the work of the Roberts Individualized Medical Genetics Center, which uses genetic sequencing to provide answers to patients and develop personalized treatments.
Accredited by the Joint Commission on Health Care Organizations
The Joint Commission is widely known for its leadership role in evaluating and accrediting thousands of healthcare organizations in the United States.
Joint Commission standards represent a national consensus on quality patient care amidst changing healthcare practices and new delivery methods. Participation in the accreditation process is entirely voluntary, and those organizations that do participate choose to be measured against national standards for excellence in providing quality patient care within organized healthcare delivery settings.
Children's Hospital of Philadelphia achieved a three-year Accreditation by Joint Commission on Heath Care Organizations for June 2013 through June 2016. This accreditation means that we demonstrated compliance with applicable Joint Commission standards in all performance areas.
Accredited by the NCQA as an Accountable Care Organization
An Accountable Care Organization (ACO) is a group of healthcare providers that have agreed to work together to provide seamless, comprehensive care for a specific patient population. The group could be made up of group practice providers, networks of individual practices, hospitals, provider-health plan partnerships or publicly governed entities. These providers choose to come together to form an ACO because of a shared goal to improve the quality of care and patient experience, while simultaneously reducing costs.
ACOs have the potential to achieve better quality at lower cost because they create financial incentives to improve care coordination and healthcare delivery across the spectrum of providers who participate in a patient's care. This means sharing data and information, sharing accountability for the health of patients, and sharing best practices that lead to high-quality, efficient, patient-centered care. Learn more about CHOP's Accountable Care Organization accreditation »
Magnet Status for Nursing Excellence
Children's Hospital of Philadelphia was awarded Magnet status for Nursing Excellence, the nursing profession's highest national recognition, by the American Nursing Credentialing Center (ANCC), an arm of the American Nurses Association, in 2004, and received recertification in 2008, 2014 and 2019. Fewer than 8.5 percent of U.S. hospitals earn Magnet® recognition, and less than 1 percent have received it four or more times. Children's Hospital was the first pediatric hospital in Pennsylvania to receive Magnet status.
Designated Human Genome Center
Children's Hospital was designated a Human Genome Center by the National Institutes of Health and was awarded a major federal grant for the mapping of chromosome 22 in the early 90s. Children's Hospital researchers completed mapping chromosome 22 in 1999, making it the first human chromosome to be fully sequenced. Defects in genes on chromosome 22 are implicated in certain leukemias and other pediatric tumors, intellectual disabilities, numerous birth defects and the 22q11 deletion syndrome.
First Children's Hospital Named Center of Excellence in Fertility
Children's Hospital of Philadelphia is the first pediatric hospital recognized as a Center of Excellence by Fertile Hope for its commitment to educate cancer patients and their families about the risk of infertility following cancer treatment and to offer potential ways to preserve fertility. Fertile Hope is a national initiative dedicated to providing reproductive information, support and hope to cancer patients and survivors whose medical treatments present the risk of infertility.
The Chair's Initiatives Program
In 2004, the Department of Pediatrics at CHOP began a program called the Chair's Initiatives. The goal: to establish new models of care in pediatrics and tackle some of the most daunting challenges in healthcare today. Learn more about the Chair's Initiatives »
Other recent recognition of CHOP
CHOP and our leadership has received national recognition for providing excellent patient care, supporting innovation and diversity, and being a great place to work. Review recent awards and accolades.