Nurse Residency Program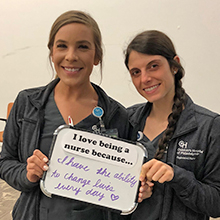 At Children's Hospital of Philadelphia (CHOP), our nurses' innovations have made our patients safer and our care better — and their ideas propel breakthroughs here every day.
The Nurse Residency Program at CHOP is a 12-month program designed for new graduate nurses.
Our program is based on the Vizient/AACN Nurse Residency Program that helps transition new nurses into clinical roles and builds their confidence. CHOP's Nurse Residency Program also includes a focus on leadership, patient outcomes and the role of the professional nurse.
The program includes:
An evidence-based curriculum
Mandatory seminar days that include group discussions, simulations and interactive exercises
Development of an evidence-based practice project to showcase at the completion of the program
At the completion of the Nurse Residency Program, participants practicing in the inpatient setting may be promoted to a Clinical Nurse position. Nurses are eligible to transfer to a different department once they have been in their position for one year.
About the Position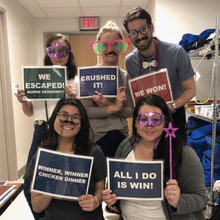 Nurse Residents may be hired directly onto a specific unit or hired to rotate through different units in an ICU or a medical/surgical track. Nurse Residents that rotate are assigned to a unit for several weeks before rotating to another area.
Nurse Residents may be hired for part-time or full-time positions. Many work 8- or 12-hour shifts. Shifts may be nights or rotate, depending on the needs of the department. All positions are benefits-eligible.
Requirements
Individuals interested in becoming a Nurse Resident must have completed the following prior to beginning their position:
a Bachelor of Science in Nursing (BSN) is required or inpatient nursing positions
have an active Temporary Practice permit or RN license for the state in which you are practicing (PA or NJ)
There is currently no minimum GPA requirement for Nurse Resident applicants.
The Application Process
How and when do I apply to be a Nurse Resident at CHOP?
Nurse Resident applications must be submitted online at careers.chop.edu. Applications are typically accepted three times a year, during the first full week (Sunday through Saturday) of March, August and December and based on the hiring needs of the department. You can apply prior to graduating from your program, for example, a May graduate may apply as early as March. We limit each posting to specific graduation timeframes, so please check the dates prior to submitting your application.
What is the interview process for Nurse Residents?
Nurse Resident candidates are interviewed on an ongoing basis throughout the year. After Human Resources reviews candidates' resumes and applications, they will invite selected candidates via email to participate in a video interview. Candidates who pass the video interview are placed into our New RN Talent Pool.
As Nurse Resident positions open, we invite candidates from the Talent Pool to interview in person with the departments hiring at that time. There is no set timeline for manager-level interviews, as they are based on the needs of individual departments.
How long after applying will an in-person interview occur?
Due to the varying number of positions available, CHOP does not have a set timeline for in-person interviews. All applicants will receive an update within eight weeks of initial application. Candidates may remain in our Talent Pool for one year after applying online.
How many units will see my application?
Your application is reviewed by the recruitment team and shared with managers based on your resume, application and video interview. Your application is open to any unit within CHOP; however, we schedule only one in-person interview with one unit at a given time.
How do I express interest in a particular unit or patient population?
If you are selected for a video interview, you will have an opportunity to share your areas of interest at that time.
Should I ask my professors for written references?
No, we obtain references through an electronic survey, once you have moved to the hiring manager interview stage in the application process.
Additional Questions
Can I apply to be a Nurse Resident even if I have a few months of work experience as a Registered Nurse?
Yes. CHOP hires Registered Nurses with 1-12 months of RN experience into Nurse Resident positions. These nurses will be offered professional development opportunities; however, would not be eligible for the formal Nurse Residency Program.
Do you offer relocation assistance?
No, we do not offer relocation assistance for Nurse Resident positions.
What happens if I have accepted an offer with CHOP, but fail the NCLEX before my start date?
We will need to rescind your offer of employment, as you must have an active Temporary Practice permit or RN license to begin working at CHOP as a Nurse Resident. Once you pass the NCLEX, you may contact your recruiter to discuss what opportunities are available at that time.
Children's Hospital of Philadelphia is an equal opportunity employer. We do not discriminate on the basis of race, color, gender, gender identity, sexual orientation, age, religion, national or ethnic origin, disability, or protected veteran status.