Why Choose CHOP for Neurology
Children with neurological disorders face many challenging and complex symptoms that can have a serious impact on their overall quality of life, and often require care from many different specialists. At Children's Hospital of Philadelphia's Division of Neurology, your child will be cared for by one of the largest and most comprehensive pediatric neurology programs in the nation. Our team begins every day with the same mission — to find the best ways to manage your child's condition and help deliver the best outcomes possible.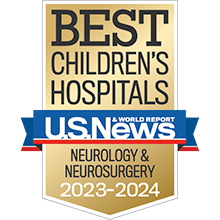 A world leader in the treatment of pediatric neurologic disorders, we are proud to be top ranked in the nation by U.S. News & World Report. Our neurologists have advanced training and experience in caring for children and adolescents with all types of neurological disorders.
If your child is referred to the Division of Neurology, we want to make the experience as easy as possible on your entire family. Each year we have more than 25,000 outpatient visits in a variety of locations, including CHOP's Main Campus in Philadelphia and throughout the CHOP Care Network. This means that you can find the care you need at a location convenient for you.
Our large volume of patients also makes us uniquely qualified to provide the best possible care for your child. While some physicians may only see certain conditions once a year, we care for patients affected by a wide range of neurologic disorders every day. This allows us to consistently find better ways to treat children affected by these complex conditions.
Your child will also have access to our specialized clinical programs focused on the care of their specific neurologic condition, including pediatric stroke, epilepsy, neuromuscular disorders, sleep disorders, developmental delay, neurogenetic disorders, multiple sclerosis and neonatal neurology, among other neurological disorders in children.
From evaluation and diagnosis to targeted therapies and long-term follow-up care, our approach to care brings together the different specialists that can help maximize your child's recovery and enhance their quality of life.
At the root of everything we do is a commitment to improving treatment options and outcomes for children affected by neurological disorders. Our team members are actively involved in research that focuses on a wide variety of neurologic injuries and neurodevelopmental problems.
---
You Might Also Like