Why Choose Us for Lymphatic Disorders
Expert, multidisciplinary care
Experts with The Jill and Mark Fishman Center for Lymphatic Disorders have treated hundreds of adults and children with these disorders, making ours the largest and most active treatment program in the world. This experience means highly specialized, expert care for each patient in a single location that brings together the many specialists that may be needed to manage these conditions.  
Our program includes clinicians who are world leaders in managing rare lymphatic disorders. The team includes interventional radiologists, interventional cardiologists, radiologists, cardiologists, pathologists, gastroenterologists, surgeons, anesthesiologists, nurses, technicians and researchers.
Pioneers in diagnosis and treatment
The research efforts of our team led to the development of new diagnostic tools and treatment options for patients with lymphatic leaks and lymphatic flow disorders. These include dynamic contrast MR lymphangiography, intranodal lymphangiography-guided lymphatic interventions, and a variety of minimally invasive treatments. 
Experts pioneered the field of lymphatic interventions, and the first pediatric thoracic duct embolization procedures were performed at Children's Hospital of Philadelphia.
The Jill and Mark Fishman Center for Lymphatic Disorders was designated a Frontier Program by Children's Hospital of Philadelphia. Frontier Programs are unique, cutting-edge programs that will forge important new discoveries, deliver novel therapies, and help even more children thrive. 
Designated Center of Excellence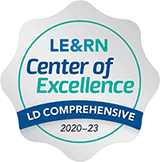 The Jill and Mark Fishman Center for Lymphatic Disorders was one of the first programs designated as a Center for Excellence by the Lymphatic Education & Research Network. All institutions designated as a Center of Excellence have been evaluated by international leaders in an extensive review process. Centers were selected for setting the highest standard for best practice multidisciplinary care in the management and care of lymphatic diseases.