Refugee Health Program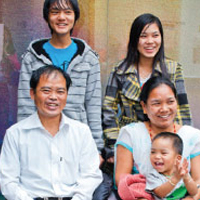 Children's Hospital of Philadelphia's Refugee Health Program works to ensure that all refugee children have a healthy start to their lives in the U.S.
Each year, almost 800 refugee families arrive in Philadelphia in search of freedom, peace, and opportunity for themselves and their families. The healthcare needs of these children are the same as, if not more extensive than, any child in the United States.
To provide high quality healthcare for refugee children who have recently arrived in the U.S., our program collaborates with three nonprofit refugee resettlement agencies:
Services we provide
Primary care pediatricians, pediatric nurses and social workers from CHOP, and case workers from Philadelphia's refugee resettlement agencies meet refugee children's healthcare needs with the following services:
Age-appropriate screening for infectious conditions, developmental delay, and adolescent risk behaviors
Catch up immunizations
Psychosocial assessments
Preparation for adjustment of status
Our physicians assess all factors that may impact a child's health, including migration, education and trauma. We also work to eliminate any health-related barriers that would keep children from entering school, and help families find a healthcare provider (CHOP or another) that will continue to care for children.
Training for medical professionals
The CHOP Refugee Health Program also provides training opportunities for pediatric residents, medical-pediatric residents and medical students. Our educational goal is to teach trainees to effectively and empathetically provide pediatric care for children from diverse linguistic and cultural groups.