2022 Disability Equality Index Names CHOP a "Best Place to Work for Disability Inclusion"
Published on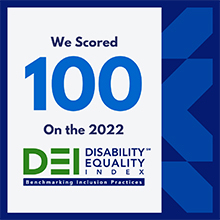 Children's Hospital of Philadelphia (CHOP) has been recognized by the 2022 Disability Equality Index (DEI) as a leader in "Best Places to Work for Disability Inclusion." The DEI is the nation's most comprehensive annual benchmarking tool used to survey employers' disability policies, practices, and initiatives. For the fourth year in a row, CHOP received a 100 out of 100 score, the DEI's highest ranking.
"Inclusion at CHOP means creating an environment where employees can bring their whole selves to work, where each person feels welcomed, supported, and valued." said Gilbert Davis, Vice President, Chief Diversity Officer at Children's Hospital of Philadelphia. "One of CHOP's highest priorities is ensuring our workforce is as diverse as the families we serve. We want everyone who walks through our doors to feel like their voices are heard. We are proud that DEI has recognized our efforts to make CHOP a welcoming workplace for all abilities."
CHOP champions numerous Employee Resource Groups (ERGs) and Clinical Advisory Groups (CAGs), which provide employees with opportunities to connect to the broader mission of the organization and ensure that the dimensions of diversity and inclusion are fully integrated throughout the hospital and CHOP Care Network. ERG members enjoy an enhanced sense of belonging through mentoring, volunteerism, and community involvement.
The CHOP All Abilities Resource Group (AARG)'s mission is to support diversity and inclusion efforts for people with disabilities by increasing awareness, education, and visibility around the topic of disability. AARG aims to foster a safe and welcoming environment that promotes recruitment, support, advocacy and professional development for all employees at CHOP, with an emphasis on equity and belonging for employees with disabilities.
"Whether in my own experience as a disabled employee or as part of the AARG leadership, advocating for an organization that fully embraces and supports disabled colleagues, I've appreciated the depth of CHOP's commitment to inclusion," said Rachel Benecke, a data analyst and strategy/logistics officer for the AARG at CHOP. "This award is a wonderful reflection of CHOP's dedication to value all employees and specifically to support our teammates with disabilities."
In addition to the AARG, CHOP's ERGs cover additional identity categories such as gender, sexual orientation, race/ethnicity, Veteran status, and generations/age; they also include four physician affinity groups.
The 2022 DEI measured company criteria including Culture and Leadership; Enterprise-Wide Access; Employment Practices; and Supplier Diversity, among others. This year, the DEI also included new non-weighted leadership questions about including disability in corporate board diversity criteria.
The DEI was launched in 2015 by Disability:IN and The American Association of People with Disabilities (AAPD). It is considered the most robust disability inclusion assessment tool in business.
Contact: Joey McCool Ryan, The Children's Hospital of Philadelphia, (267) 258-6735 or mccool@chop.edu