CHOP Opens Pediatric Urgent Care Center in King of Prussia, PA
Published on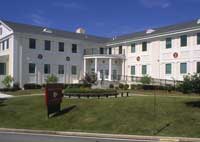 Pediatric Urgent Care Center in King of Prussia
Only urgent care center in area dedicated to kids offers convenient after-hours access
February 17, 2014 — The Children's Hospital of Philadelphia (CHOP) today opened a pediatric urgent care center in King of Prussia, PA. The Urgent Care Center in King of Prussia is the only after-hours urgent care facility in the area dedicated exclusively to children. CHOP opened its first Urgent Care Center in Mays Landing, NJ, in 2013.
"We are pleased to now offer urgent care in two locations throughout the extensive CHOP Care Network, making it even more convenient for local families to get expert pediatric care in their communities," said Madeline Bell, CHOP president and chief operating officer. "Urgent Care Centers are a new and exciting addition to the Care Network and provide families with a way to receive the appropriate level of care in a fast, convenient and child-friendly environment."
Staffed by CHOP pediatricians, and nurses specialized in pediatric care, the Urgent Care Center in King of Prussia provides after-hours care for children with mild to moderate, non-life-threatening illnesses or injuries that do not require the resources of an emergency room. Located within the existing CHOP Specialty Care Center at 950 Pulaski Drive, the Urgent Care Center is open when parents and children need quick access to care — evenings, weekends and holidays. Hours of operation are weekdays 4-11 p.m., Saturdays and Sundays from 10 a.m.-10 p.m., and holidays.
"We know that for parents, it can be scary when your child gets sick or injured when the pediatrician's office is closed," said Magna Chang Dias, MD, medical director of Urgent Care at CHOP. "Whether it's a late-night fever or weekend injury on the sports field, parents will now have peace of mind knowing that expert care from CHOP's pediatric specialists is available when their children need it most."
Services offered at the Urgent Care Center in KOP
CHOP experts will treat children with non-life-threatening, non-emergent illnesses such as ear infections, rashes, headaches, minor burns, wounds requiring stitches, mild to moderate asthma, and broken bones without obvious deformities or sprains. On-site X-ray and lab facilities enable timely diagnostic testing and treatment.
In order to make care as seamless as possible, a child's pediatrician will receive a prompt report of each visit with a detailed summary of care provided, a list of any medications prescribed or administered, and a treatment plan.
"The Urgent Care Center is not meant to replace a child's relationship with his or her pediatrician," said Dias. "We are here to serve as a resource when their offices are closed, and children need immediate care."
With lower co-pays and shorter wait times than emergency rooms, urgent care is a convenient solution for parents seeking high-quality pediatric care after hours. Children requiring emergency care should be treated at their local ER. The Urgent Care Center does not treat serious, life-threatening illnesses or injuries, or conditions such as poisoning, seizures, severe difficulty breathing or swallowed objects.
The Children's Hospital of Philadelphia has a well-established history of providing top-notch pediatric care close to home through its CHOP Care Network, which has more than 50 locations throughout the region. The After-Hours Urgent Care Center is housed within the CHOP Specialty Care Center in King of Prussia, which has provided outpatient specialty medical and surgical physician services and ancillary testing to families in Montgomery County since 1997.