CHOP Urologists Advocate Expanded Use of Nephron-Sparing Surgery for Wilms Tumor
Published on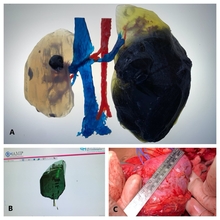 Over the past decade, Children's Hospital of Philadelphia (CHOP) Attending Pediatric Urologist Thomas Kolon, MD, has pioneered the use of nephron-sparing surgery — also known as partial nephrectomy — for Wilms tumor, the most common malignant renal tumor in childhood. Recently, Dr. Kolon and his fellow CHOP Attending Pediatric Urologists Christopher Long, MD, and Sameer Mittal, MD, published a paper in the Journal of the National Comprehensive Cancer Network in which they review their experience with nephron-sparing surgery and call for studies on the efficacy of increasing use of the procedure in pediatrics.
Many institutions recommend radical nephrectomy — a procedure in which the entire kidney is removed — for pediatric Wilms tumor. While radical nephrectomy combined with contemporary chemotherapeutic and radiation therapy protocols has drastically improved outcomes for children with Wilms tumor, Dr. Kolon and his colleagues explain that given that children are now being cured with increasing success, the focus must shift to long-term health outcomes in addition to tumor treatment.
Retrospective studies have identified radical nephrectomy as a risk factor for the development of chronic kidney disease (CKD) when used to treat small renal masses. Compromised renal function can lead to anemia, hypertension, an increased risk of cardiovascular disease, and death.
Nephron-sparing surgery is a procedure in which the surgeon removes the tumor and spares the remainder of the kidney. While there are limited data for children, studies in adults that have undergone nephron-sparing surgery suggest that the most important factors — namely tumor rupture, tumor recurrence, and overall survival — are equivalent to radical nephrectomy.
At CHOP, over 50 patients with bilateral Wilms tumor and syndromic Wilms tumor of high-intermediate complexity have now undergone planned nephron-sparing surgery successfully. Based on this success in these select cases, the authors call for a paradigm shift toward increased use of nephron-sparing surgery for pediatric Wilms tumor.
Dr. Kolon and his team have worked closely with Oncology and Radiology colleagues at CHOP to optimize the nephron-sparing surgery. Increased utilization of neoadjuvant chemotherapy and the use of 3-D models have been instrumental in the team's ability to perform the procedure in complex Wilms tumor.
CHOP radiologists review post-chemotherapy MRI images and then collaborate with the urologist and an engineer to identify and define relevant anatomy. After further review with the surgeon, a 3-D model is constructed and printed to facilitate presurgical planning, identification of vital blood vessels, and mapping of dissection planes, with the goal of preserving healthy renal tissue. This technique is especially important in children with bilateral Wilms tumor to help prevent or delay the need for renal replacement therapy.
Dr. Kolon and his team recommend properly conducted prospective, randomized trials to address the efficacy of increasing the use of nephron-sparing surgery, create a standard surgical description, assess outcomes across individual institutions and surgeons, and study outcomes of the procedure for larger tumors.
---
Next Steps
Appointments, Referrals and Video Visits
Fax