GIANT Food Stores Gifts $5 Million to CHOP
Published on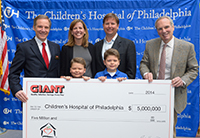 January 27, 2014 — The Children's Hospital of Philadelphia (CHOP) hosted an event today to announce a $5 million leadership gift from GIANT Food Stores to support construction of the Buerger Center for Advanced Pediatric Care, a state-of-the-art outpatient facility scheduled to open in the University City section of Philadelphia in 2015. GIANT Food Stores' contribution punctuates nearly 20 years of philanthropic support for patient care programs at Children's Hospital. In recognition of GIANT Food Stores' gift, the lobby of the Buerger Center will be named the GIANT Lobby.
"GIANT has built such a powerful legacy of support at CHOP over nearly two decades, and with this incredible gift, there is no more appropriate way to recognize their generosity than to name the lobby of the new Buerger Center in their honor," said Steven M. Altschuler, MD, chief executive officer of The Children's Hospital of Philadelphia. "The GIANT Lobby will be the most visited, and most visible, space in the building. We deeply appreciate GIANT's significant investment in this project and their longstanding commitment to helping children enjoy healthy futures."
GIANT Food Stores is a top fundraiser in the U.S. for Children's Miracle Network hospitals, which includes The Children's Hospital of Philadelphia, through the sale of paper balloon and candle icons in stores. GIANT has contributed nearly $8.5 million to support patient care at The Children's Hospital of Philadelphia, as well as the remodeling of Children's Hospital's physical therapy gym, now named The GIANT Food Stores Physical Therapy Gym. Today's announcement brings their total contributions to nearly $13.5 million.
"It's an honor and a privilege for GIANT Food Stores to support CHOP's Buerger Center for Advanced Pediatric Care," said Rick Herring, president, GIANT Food Stores. "We know this gift will have a long-lasting impact on the exceptional care that will be provided there, and it underscores our commitment to improving the quality of life for children."
The 9,000-square-foot GIANT Lobby at the Buerger Center is designed to be the focal point for family arrivals at the Center and will feature a reception area providing information, directions and assistance to families. Filled with natural light, the GIANT Lobby will offer views onto a landscaped plaza, with a two-story, glass-walled ramp winding overhead to the second floor.
About the Buerger Center for Advanced Pediatric Care
The Buerger Center for Advanced Pediatric Care was announced in June 2013 with a landmark gift from the Buerger family of PA to name the state-of-the-art facility. The Buerger Center will feature 12 floors of integrated clinical care facilities and patient, family and visitor amenities. At its projected opening in 2015, it will be the most advanced outpatient pediatric medical facility in the world, designed for the ideal patient experience.
Spacious waiting rooms for families will be filled with natural light and dotted with "wait, play, learn" areas to provide patients and their siblings a venue for educational toys and games. A relaxing 14,000-square-foot roof garden will be utilized for recreation as well as rehabilitation sessions, while a 2.6-acre landscaped outdoor plaza will offer a safe open area for play, entertainment and emotional recharging.
The Buerger Center will be environmentally friendly, with a targeted LEED Silver certification from the U.S. Green Building Council. Five levels of underground parking will accommodate 1,500 vehicles, enough for Children's Hospital's entire South Campus.
"We spend a great deal of time as outpatients at The Children's Hospital of Philadelphia, where my two boys are treated by more than a dozen specialists for a rare disorder called mitochondrial disease," said Meredith Hardy, who shared remarks at today's event. "Entering the GIANT Lobby in this new state-of-the-art Buerger Center for Advanced Pediatric Care will provide my family a welcoming experience filled with opportunities for my sons to explore and learn. We so look forward to continuing our world-class care in this new, incredible facility."
About The Children's Hospital of Philadelphia
The Children's Hospital of Philadelphia was founded in 1855 as the nation's first pediatric hospital. Through its long-standing commitment to providing exceptional patient care, training new generations of pediatric healthcare professionals and pioneering major research initiatives, Children's Hospital has fostered many discoveries that have benefited children worldwide. Its pediatric research program receives the highest amount of National Institutes of Health funding among all U.S. children's hospitals. In addition, its unique family-centered care and public service programs have brought the 516-bed hospital recognition as a leading advocate for children and adolescents.
About GIANT Food Stores
Founded in 1923, GIANT Food Stores, headquartered in Carlisle, PA, operates 200 grocery stores in Pennsylvania, Maryland, Virginia and West Virginia, under the names of GIANT Food Stores and MARTIN'S Food Markets. GIANT and MARTIN'S have a long-standing commitment to eradicate hunger and improve the quality of life for children in addition to working with hundreds of local organizations annually. For more information visit www.GiantFoodStores.com or find us on Facebook at facebook.com/giantfoodstores.