Celiac disease is one of the most common genetic conditions in the world, affecting 1 in every 133 people. People with celiac are not able to digest gluten, a protein found in wheat, rye and barley.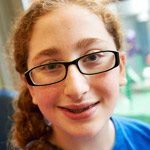 Celiac disease is an autoimmune disorder, and it is very different from a wheat allergy or gluten intolerance. With celiac disease, gluten attacks the villi, which are tiny finger-like projections that line the small intestine and absorb nutrients. Gluten damages the villi, and as a result, the villi don't properly absorb proteins, minerals, carbohydrates and fats from food.
Symptoms of celiac disease
Celiac disease is a multisymptom, multisystem disorder. The symptoms can vary greatly between cases and they are not always gastrointestinal in nature. Celiac disease can appear any time during a person's life.
These are some of the more common symptoms of celiac disease in children and adolescents:
Poor growth
Weight loss
Small stature
Poor appetite
Delayed puberty
Diarrhea
Constipation
Food aversion
Irritability, mood issues
Damage to dental enamel
Iron deficiency (anemia) or other vitamin or mineral deficiencies
Gas
Vomiting
Skin disorders that cause small, itchy blisters on the elbows, feet or knees
Bloated abdomen or "potbelly"
Fatigue
Osteoporosis or multiple bone fractures
Headaches
Children will not "grow out" of celiac disease. It is a condition that must be managed for a lifetime. If left untreated, celiac disease can cause chronic and life-threatening damage to the small intestine and can lead to an increased risk of other disorders.
While the cause of celiac disease is unknown, researchers have determined that there is a strong genetic component to the disease. People with celiac disease have an increased risk of passing it on to their children.
The Center for Celiac Disease at The Children's Hospital of Philadelphia is one of the largest and most comprehensive centers of its kind in the United States. At the center, clinical experts use a variety of tests to diagnose celiac disease, and offer comprehensive care for children with the disease, including dietary support and disease management.
Contributed by: Patrick S. Pasquariello, MD
Stay in Touch
Are you looking for advice to keep your child healthy and happy? Do you have questions about common childhood illnesses and injuries? Subscribe to our Health Tips newsletter to receive health and wellness tips from the pediatric experts at Children's Hospital of Philadelphia, straight to your inbox. Read some recent tips.