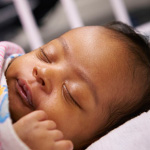 Your toddler will soon have a new sibling, but he may not take to this news with the same excitement you have. It's not always easy for a firstborn toddler or preschooler to accept a new baby who makes lots of noise and seemingly steals all his mommy and daddy time. But there are ways you can help make the transition a little smoother and help your firstborn understand that there is plenty of love and attention to go around.
When (and how) to share the news?
Many families like to wait until the second trimester to share the news with family and friends. You can explain to your child that she is going to have a new baby brother or sister in a few months. Reassure your child that you'll love her just as much when the new baby comes and while things will be different around the house, your love won't be. Reading stories is a great way to introduce your child to what happens when a new baby comes home. There are many picture books available that explore new siblings from a child's point of view.
How will my child respond?
If your child is between 2 and 3, you may find that to be the most difficult age to add a baby brother or sister to the fold. Children of this age are very attached, and they may feel threatened and jealous. You may also see a regression in behavior. It's not uncommon for children of this age to go back to wanting a bottle or pacifier, even though it's been a while since they kicked the habit. Recently potty-trained children can go back to having accidents or wetting the bed. It's important that you not make your child feel badly and give him reassurance with lots of love and affection.
How can you make it easier?
One of the most important things you can do is to include your firstborn in as many of the preparation activities as possible. Make sure that she doesn't feel pushed out of the way or ignored.
Even if your children will share one bedroom, arrange the space to allow each child to have an area to call his own. Let the older sibling make the space his own with books, toys and his pillows and blankets.
Although you may be tempted to recycle some old baby toys, do buy some new ones just for the baby. Even if you think your older child is "done" with a certain toy, seeing you give it to the new baby might stir some very jealous feelings. Having your older child help select some will make him feel like a big kid.
Boost your older child's self-esteem by having her help take care of the baby. Of course, you should assign age-appropriate tasks, such as having little ones fetch diapers or maybe sprinkle a little powder on the baby (try to stick to the feet and toes). Be sure to make a fuss over her invaluable help.
Carve out some special snuggle or activity time with your oldest — perhaps during the baby's nap or when someone else can take over the care for a while. Try to keep your daily rituals with your firstborn, such as story time and bedtime.
Well-meaning family and friends will bring a gift for the new baby, but may not remember big brother or sister, sparking jealousy. Have some small wrapped "goodies" for your child to open when baby gets a present.
If your firstborn acts out, try to be patient and understanding. Use empathy when dealing with the situation, such as: "I know it's hard to have someone new in the house," or "It must feel frustrating to have to share mom and dad with a new baby." You will find that a little empathy may go a long way to helping your child accept the new situation.
Contributed by: Patrick S. Pasquariello Jr., MD
Stay in Touch
Are you looking for advice to keep your child healthy and happy? Do you have questions about common childhood illnesses and injuries? Subscribe to our Health Tips newsletter to receive health and wellness tips from the pediatric experts at Children's Hospital of Philadelphia, straight to your inbox. Read some recent tips.