Children's Hospital of Philadelphia specialists offer in-person second opinions at CHOP to any patient and in select clinical areas offer remote consultations for patient families who reside in certain states throughout the country.
The remote consultation program allows our pediatric specialists to review a patient's medical records virtually and provide a consultation report that answers specific questions based on the information provided.
The consultation report is provided to you and the patient's treating physician as additional information to consider for clinical decision making. The CHOP provider does not provide a diagnosis or treatment plan, which remains in the purview of the patient's treating physician. Providing the remote consultation report is done virtually and is based on transmission of your medical information to CHOP through a portal. The report is then transmitted through the portal or emailed to you and the patient's treating physician. It does not require you to come to CHOP. A medical examination of the patient will not be conducted by CHOP providers.
This is a self-pay program, insurance is not accepted.
Click here to complete an eligibility form for the Online Remote Medical Consultation Program.
Celiac Disease Second Opinion: Jack's Story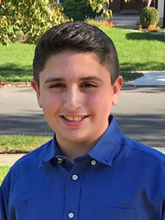 Jack, 12, was diagnosed with celiac disease and is adjusting to life without gluten. His family appreciates Children's Hospital of Philadelphia's thorough approach to making the diagnosis and the support they have received in making the transition to gluten-free eating.
The first signs of Jack's stomach problems started when he was 4 years old. He would often throw up in the night, interrupting his sleep. Despite countless tests and appointments, doctors couldn't figure out the cause. It wasn't until he was 8 years old that an endoscopy showed signs of damage to the lining of his intestine, a possible indicator of celiac disease.
How the remote consultation program works
The Children's Hospital of Philadelphia Online Remote Consultation Program is facilitated by an external vendor, Nimble Co., LLC d/b/a Purview. To enroll in this program, clinical and other information will be gathered from you, and you will be requested to sign a series of documents. CHOP's National Patient Services team will be available to answer your questions throughout the process. If you choose to enroll, you will:
1. Enter the Purview virtual platform to apply
You'll provide contact information and details about the patient's diagnosis, treatment, any specific questions you would like addressed in the consultation report, and certain other information so that it can be determined if your case is eligible for remote consultation by CHOP. You will also be asked to provide contact information of the patient's healthcare provider. If the case is determined to be eligible for a remote consultation, the following steps will be required.
2. Purview will request more information
You will be requested to sign several documents such as authorization for the release of health information and a consent and release agreement. These forms will be collected and maintained by Purview.
3. Provide payment
Once eligibility is confirmed, there is a fee that you will be required to pay before CHOP can proceed with the consultation. The fee will be collected via the Expert View platform.
The fee is $850 for all conditions, other than cancer and blood disorder conditions, where the fee is $1,150.
This is a self-pay program, insurance is not accepted. You may be able to use your Health Care Saving Account (HSA) or Flexible Spending Account (FSA) for this service. Please check with your plan.
4. Medical records are requested and shared with a CHOP specialist
Purview will request the patient's medical records from the healthcare provider you named and authorized in the forms. Purview will let the patient's treating physician know your request for a remote consultation has been made when it requests medical records and will request they receive and consider the report.
5. Report is sent to you and the patient's doctor
The remote consultation report completed by a CHOP specialist will be provided to the patient's treating physician and to you.
The intent of the report is to provide supplemental information for consideration by your treating physician and promote discussion between you/the patient and the treating physician regarding the patient's condition and treatment planning. The report will answer the questions you provided. The report will not provide a diagnosis or treatment plan but will offer information for consideration with the patient's treating physician. It is not intended to substitute for the professional opinion and decision-making of the patient's treating physician.
The patient's health information that is provided and the consultation report will be maintained and stored in the Purview secure electronic information system.
Contact Us
If you have any questions or wish to speak to someone from our team, please contact us at 267-425-3560 or chopusa@chop.edu. For in-person second opinions, click here.
Eligibility criteria
Please use the form below to identify if the patient is eligible for the Online Remote Consultation Program.