Interventional Radiology Fellowship
About the IR Fellowship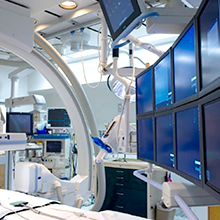 CHOP's Interventional Radiology Suite The Interventional Radiology (IR) Fellowship at Children's Hospital of Philadelphia (CHOP) is designed to be a one-year training program to produce a well-trained interventional pediatric radiologist who works at a high level in the clinical, research, and teaching arenas.
CHOP has one of the largest pediatric IR services in the country, performing over 3,000 cases a year. The fellowship experience provides excellent training to enter into a subspecialized pediatric IR practice, with exposure to a broad range of procedures and pathologies. In addition to standard IR procedures, fellows gain experience in technically complex pediatric interventions, including primary enteral access, cryoablation and RF ablation, embolization, angioplasty, cerebral angiography and interventions, TIPS creation, and the treatment of complex vascular anomalies.
The IR fellow is expected to participate in all procedures under the supervision of a CHOP staff member, engage in patient care on the IR consult service, and participate in an outpatient IR clinic. The fellow will also participate in multidisciplinary conferences, journal club, and peer learning conferences.
There are several didactic opportunities that are tailored to fellow education, including weekly IR teaching conferences at CHOP and HUP, surgical case conference, tumor board and vascular anomalies program.
The fellow will be expected to participate in a research project and present at at least one major academic meeting during the year.
How to apply
The fellowship seeks physicians who will have completed residency training in a program approved by the American Board of Radiology or who will otherwise be eligible for Board certification.
Please download the application (PDF) and complete the appropriate fields. The completed application can be emailed or mailed along with the following materials to the contact below.
Fellowship application checklist
Completed application
Personal statement
Updated curriculum vitae
Medical school transcript sent directly from your medical school
Three letters of reference, addressed to to Edward Oliver, MD, PhD, Program Director, or Michael Acord, MD, Associate Program Director of the Interventional Radiology Fellowship Program, from professionals familiar with your work
Parts I, II and III of the USMLE taken within the seven-year time frame as required by the Commonwealth of Pennsylvania
If a graduate of a medical school outside of the United States, Canada or Puerto Rico, a valid ECFMG certificate
If not a citizen of the United States, copy of permanent resident card or appropriate visa
Photograph for identification purposes only
All application materials, with the exception of the medical school transcripts, can be submitted via email or mailed to:
Ebony Ford, MSHA
Program Coordinator
Children's Hospital of Philadelphia
Department of Radiology
Room 3W47, Main Building
Philadelphia, PA 19104
Phone: 267-425-9609
Fax: 267-425-7195
Email: forden@chop.edu
An interview may be scheduled after receipt of all of the above documents.
Other requirements
To carry out its mission, it is of critical importance for the Children's Hospital of Philadelphia (CHOP) to keep our patients, families and workforce safe and healthy and to support the health of our global community. In keeping with this, CHOP has mandated all workforce members (including trainees) on site at any CHOP location for any portion of their time be vaccinated for COVID-19 as a condition of employment.

This mandate also applies to workforce members or trainees performing work for CHOP at non-CHOP locations. Additionally, all workforce members based in or regularly scheduled to work at any New Jersey location are mandated to be both vaccinated and boosted for COVID-19, with booster timing consistent with applicable guidelines. The CHOP COVID-19 vaccine mandate is in alignment with applicable local, state and federal mandates. CHOP also requires all workforce members and trainees who work in patient care buildings or who provide patient care to receive an annual influenza vaccine. Employees may request exemption consideration for CHOP vaccine requirements for valid religious and medical reasons. Please note start dates may be delayed until candidates are fully immunized or valid exemption requests are reviewed. In addition, candidates other than those in positions with regularly scheduled hours in New Jersey, must attest to not using tobacco products.
Children's Hospital of Philadelphia is an equal opportunity employer. We do not discriminate on the basis of race, color, gender, gender identity, sexual orientation, age, religion, national or ethnic origin, disability, protected veteran status or any other protected category. CHOP is a VEVRAA Federal Contractor seeking priority referrals for protected veterans.
CHOP is committed to building an inclusive culture where employees feel a sense of belonging, connection, and community within their workplace. We are a team dedicated to fostering an environment that allows for all to be their authentic selves. We are focused on attracting, cultivating, and retaining diverse talent who can help us deliver on our mission to be a world leader in the advancement of healthcare for children.
We strongly encourage all candidates of diverse backgrounds and lived experiences to apply.
Day of your interview
Candidates for the Interventional Pediatric Radiology Fellowship typically arrive at the Philadelphia International Airport the evening prior to their visit. There will be a reservation in your name at Sheraton University City. The hotel is within walking distance of the Hospital.
You will begin your day interviewing with several members of our faculty, and touring the Department with one of our current fellows. At mid-day, lunch will be at a nearby restaurant with one or two of our fellows.
Your day will be finished by 3 p.m., leaving time for your return home. However, for applicants applying to multiple programs, the schedule may include additional interviews for each program.
For more information, contact Ebony Ford, MSHA, Program Coordinator, at 267-425-9609 or forden@chop.edu.
---
You Might Also Like