Interventional Radiology Fellowship
About the IR Fellowship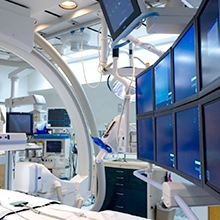 CHOP's Interventional Radiology Suite The Interventional Radiology (IR) Fellowship is designed to be a one-year training program. The goal for this program is to produce a well-trained interventional pediatric radiologist who works at a high level in the clinical, research and teaching arenas.
The IR fellow is expected to obtain informed consent for procedures, participate in all procedures under the supervision of a CHOP staff member, and participate in the follow-up care of the patient. The fellow will also participate in interpretation and dictation of results.
There are several didactic conferences that the fellow may attend, including the IR teaching conference, IR M and M conference, IR journal club, surgical case conference, tumor board and vascular malformation clinic.
The fellow will be expected to participate in clinical IR research and present at, at least one major academic meeting during the year. The fellow will have protected academic time.
How to apply
The fellowship seeks physicians who will have completed residency training in a program approved by the American Board of Radiology or who will otherwise be eligible for Board certification.
Please download the application (PDF) and complete the appropriate fields. The completed application can be emailed or mailed along with the following materials to the contact below.
Fellowship application checklist
Completed application
Personal statement
Updated curriculum vitae
Medical school transcript sent directly from your medical school
Three letters of reference, addressed to to Sabah Servaes, MD, Program Director, or Michael Acord, MD, Associate Program Director of the Interventional Radiology Fellowship Program, from professionals familiar with your work
Parts I, II and III of the USMLE's taken within the seven-year time frame as required by the Commonwealth of Pennsylvania
If a graduate of a medical school outside of the United States, Canada or Puerto Rico, a valid ECFMG certificate
If not a citizen of the United States, copy of permanent resident card or appropriate visa
Photograph for identification purposes only
All application materials, with the exception of the medical school transcripts, can be submitted via email or mailed to:
Gabriella Dunn
Program Coordinator
Children's Hospital of Philadelphia
Department of Radiology
Room 3W47, Main Building
Philadelphia, PA 19104
Phone: 215-590-2564
Fax: 267-425-7195
Email: DUNNGC@EMAIL.CHOP.EDU
An interview may be scheduled after receipt of all of the above documents.
Tobacco-free hiring policy
To help preserve and improve the health of our patients, their families and our employees, The Children's Hospital of Philadelphia has a tobacco-free hiring policy. This policy applies to all candidates for employment (other than those with regularly scheduled hours in New Jersey) for all positions, including those covered by the Collective Bargaining Agreement.
Job applicants who apply after July 1, 2014, will be expected to sign an attestation stating they've been free of nicotine or tobacco products in any form for the prior thirty (30) days. They will also undergo a cotinine test as a part of the Occupational Health pre-placement drug screen administered after the offer of employment has been accepted but before the first day of hire.
Exemptions: Attending physicians (excluding CHOP physicians in the Care Network), psychologists, principal investigators and/or Penn-based faculty are exempt from this process to better align with our colleagues at the University of Pennsylvania Perelman School of Medicine.
Day of your interview
Candidates for the Interventional Pediatric Radiology Fellowship typically arrive at the Philadelphia International Airport the evening prior to their visit. There will be a reservation in your name at Sheraton University City. The hotel is within walking distance of the Hospital.
You will begin your day interviewing with several members of our faculty, and touring the Department with one of our current fellows. At mid-day, lunch will be at a nearby restaurant with one or two of our fellows.
Your day will be finished by 3 p.m., leaving time for your return home. However, for applicants applying to multiple programs, the schedule may include additional interviews for each program.
For more information, contact Gabriella Dunn, Program Coordinator, at 215-590-2564 or by email.
---
You Might Also Like