Feeding and Swallowing Outpatient Clinic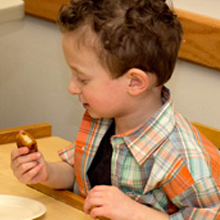 When your child has feeding or swallowing difficulties, our team of providers can help. In our outpatient clinic, we will evaluate your child, provide treatment recommendations and monitor his progress during follow-up visits.
Initial evaluation
Your child's first visit to the Feeding and Swallowing Outpatient Clinic will last for two hours. This gives us time to get to know your child, learn about his needs and do a feeding observation. During this visit, a physician, nurse practitioner, speech therapist, occupational therapist, nutritionist and psychologist (if developmentally appropriate) will meet with your family and prepare a treatment plan. You will get this plan to take home with you when you leave the clinic that day.
"

I thank God for the Feeding Center at CHOP every day.

"