Individualized Medical Genetics: Donor-funded Research Helps Camryn Thrive After Rare Brain Malformations
Published on
Camryn was born with an extremely rare combination of brain malformations. With the help of genetic experts at Children's Hospital of Philadelphia, the cause was identified as a rare genetic mutation inherited from both parents. This knowledge has led to improved care for Camryn and has given her parents the confidence to have a second child.
Cortney and Ryan's daughter, Camryn, was born in June 2014 after an uncomplicated pregnancy and delivery. About 12 hours later, a doctor noticed that Camryn's head appeared unusually small, and he had her moved to the newborn intensive care unit (NICU).
MRI scans confirmed a diagnosis of microcephaly, a condition in which a baby's head is much smaller than normal. The scans also led to the diagnosis of two other rare brain malformations, which are almost never seen together — lissencephaly and polymicrogyria.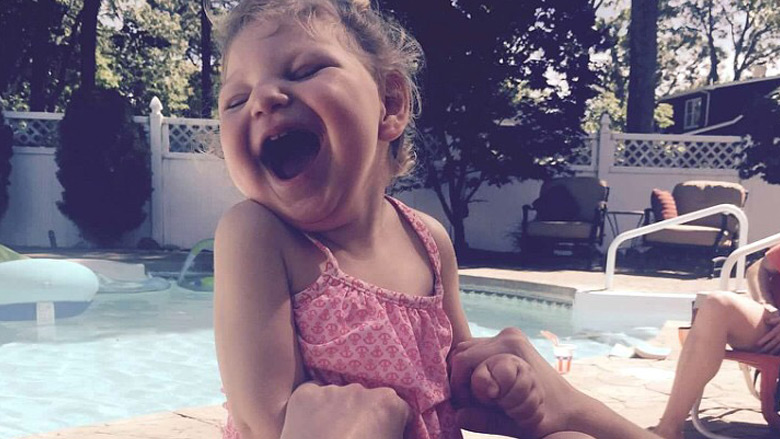 Discovery: Powered by You
Your support will help power the innovative research needed to find and cure rare debilitating genetic disorders like Camryn's.
A unique case
All three conditions are rare individually, and when they do appear, they're generally clustered with other health and developmental problems. Not only was it extremely rare for Camryn to have the combination of the three malformations, but she also didn't quite fit the picture of any known syndromes.
"To say our world collapsed was an understatement," remembers Cortney. "We left the hospital with a ton of unanswered questions. No one could tell us anything."
Their internet searches led to frightening information about each of the conditions, none of which was helpful. But Cortney and Ryan's research also led them to a place with expertise in neurological problems in children — Children's Hospital of Philadelphia (CHOP). When Camryn was a month old, Cortney and Ryan brought her to see Diana Walleigh, MD, a neurologist at CHOP.
Finding hope at CHOP
"That was the best decision we ever made," says Cortney. "When we went in, we had no hope. Dr. Walleigh spent two hours with us, explaining what steps we should take going forward and what interventions to start right away. Her knowledge and patience were very comforting."
"

She became our guardian angel. She was the first person to tell us, 'Camryn is going to write her own book.'

"
Dr. Walleigh's expert guidance and reassurance made a huge difference to Cortney and Ryan. It gave them hope that Camryn wouldn't follow the path of rapid decline they learned about when researching genetic syndromes typically associated with her conditions. They signed Camryn up for early intervention services that helped her with eating, movement and communication.
One of Dr. Walleigh's first steps was to order first-level genetic testing. The results came back negative for all the common conditions that could cause brain malformations — a relief for Cortney and Ryan.
But they were still in the dark as to the root cause of her problems. "Until we found out where Camryn's condition originated," says Cortney, "We would have no idea what her future held or what kind of care she would eventually need."
Advanced comprehensive testing
To get an answer, the family was introduced to the Roberts Individualized Medical Genetics Center (IMGC) at CHOP, a highly specialized collaborative for genetics and individualized medicine that supports research and patient care at Children's Hospital. The $50 million Roberts IMGC is funded primarily by philanthropy, and provides new opportunities for breakthrough cures for childhood disease.
Cortney and Ryan met with the Center's Co-directors Livija Medne, MS, LCGC, a senior genetic counselor, and Ian Krantz, MD, an attending physician in the Division of Genetics. The Roberts IMGC facilitates access to genetic testing, and its staff has the expertise to fully explain the available tests — and later the results — to patients and families.
In Camryn's case, Livija and Dr. Krantz recommended exome sequencing, a comprehensive test that reads the genetic code of about 20,000 genes.
The team helped the family through the approval process to have the test covered by their health insurance and then conducted the test.
Camryn's genetics were as unique as her brain malformations. She had received one copy of a rare genetic mutation from each parent. Although the genetic experts had seen variations of the mutation, they had never seen Camryn's exact mutation before.
"

These results were the answers we had been looking for since Camryn was born.

"
"And they reaffirmed what Dr. Walleigh had said from the beginning: Camryn is going to write her own book," says Cortney.
Camryn today
The knowledge gained by genetic testing has helped Camryn's medical team navigate her multiple conditions and focus therapy efforts to improve her quality of life.
At 3, Camryn is a happy, fun-loving little girl who loves to give her favorite people hugs and kisses. She has developmental delays, so she isn't walking or talking yet, but she crawls, takes steps when supported, and uses signs to communicate. She delights in playing with toys that light up or make music, and enjoys going outside in her stroller.
"Camryn is the light of our lives and her grandparents' lives," says Cortney. "She makes a room light up."
The genetic information Cortney and Ryan learned from the Roberts IMCG also allowed them to consider having another child — a step they had been hesitant to take when the cause of Camryn's condition was still a mystery.
In June 2017, Camryn became a big sister.
"We are eternally grateful for the experience we had and continue to have with the Roberts IMGC team!" says Cortney.
Support for genetic research
Uncovering the mysteries behind Camryn's condition — and that of hundreds of other children with complex genetic disorders — would not be possible without ongoing philanthropic support. In 2016, Children's Hospital of Philadelphia announced the creation of the $50 million Roberts Collaborative for Genetics and Individualized Medicine at CHOP, a collaborative that would position CHOP at the forefront of pediatric genetics research.
The Collaborative was funded by a landmark $25 million gift from the Roberts family to help integrate all clinical departments, divisions and centers for the care of pediatric patients and advance a relentless pursuit of breakthrough cures for childhood disease.
The Roberts Center for Pediatric Research was named to recognize the Roberts family for their generosity. It is in this breathtaking new space — overlooking the City of Philadelphia and with medical discoveries of the past 162 years as a backdrop — that we unveiled details about For Tomorrow's Breakthroughs: The Campaign for Children's Hospital of Philadelphia during the Carousel Ball on Oct. 7, 2017.