Rhabdomyosarcoma: Donors Help Power Kaitlyn's Fight Against Cancer
Published on
Kaitlyn is one of the most positive 16-year-old girls you will ever meet. She lights up the room with her beaming smile and is a kindred spirit to so many, easily making friends wherever she goes. You wouldn't know she has spent the past year fighting for her life.
At age 15, Kaitlyn went for a routine checkup with her pediatrician. At the appointment, they noticed a lump on the roof of her mouth. It didn't seem too out of the ordinary, and it was thought to be related to her orthodontics. Her pediatrician sent her to see her orthodontist, who identified the lump as unrelated to her braces. As a final precaution, the pediatrician recommended she go see an Ear, Nose and Throat (ENT) specialist.
The ENT surgeon diagnosed the issue as a fairly common, benign growth called a papilloma and scheduled surgery. On July 7, 2017, the mass was removed and sent for testing. Just days later, on July 13, Kaitlyn's mom, Dori, received a phone call and a devastating diagnosis. Three pathology reports had confirmed that Kaitlyn had rhabdomyosarcoma, a soft tissue sarcoma — a cancer of skeletal muscles that occurs in children. Her ENT surgeon referred her to CHOP.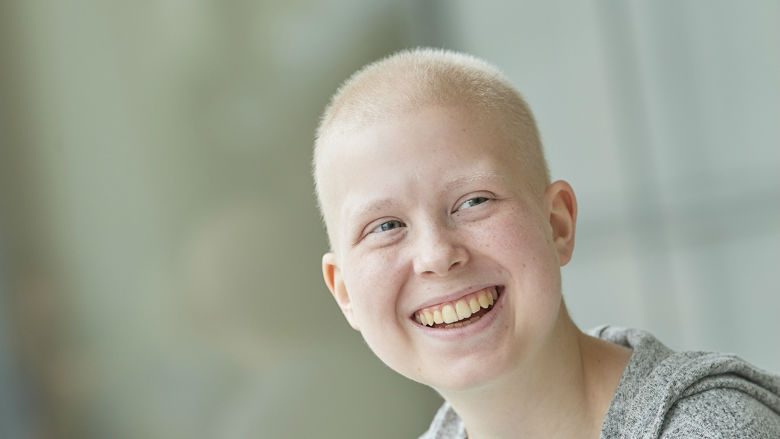 Your Gift Can Change a Life
With your help, we can get closer to a cure, giving kids like Kaitlyn the best chance at a brighter tomorrow.
Understanding cancer treatment
Children's Hospital of Philadelphia (CHOP) called the family right away, and within hours they were meeting with Richard Womer, MD, a pediatric oncologist, to discuss what this diagnosis meant for their daughter.
After the meeting, they scheduled an MRI and a PET CT scan to determine how best to move forward. Chemotherapy and proton beam radiation were both part of the treatment plan.
Following the initial three-month phase of her chemotherapy regimen, Kaitlyn began radiation treatment at CHOP's Pediatric Proton Therapy Center, which is run in collaboration with Penn Medicine. During radiation, Kaitlyn turned 16 and spent her 16th birthday in treatment. Kaitlyn's mom recalls the prep for the proton beam treatment — "It was heartbreaking to see her in the radiation mask. It covered her whole face to ensure she kept perfectly still during treatment. She, of course, handled everything with poise," says Dori. "Listening to New Kids on the Block really helped me through the radiation treatment," shares Kaitlyn. Her chemotherapy continued during the radiation.
A rocky road to recovery
The treatment path was not short of obstacles. In addition to the 10 months of chemotherapy and 28 days of radiation, Kaitlyn was hospitalized twice due to side effects from the treatment. These 17 extra days in the hospital were hard on the family, but Dori and her husband, John, were determined to be by Kaitlyn's side every step of the way. John would drive to CHOP each evening after he got off work, spend the night at Kaitlyn's bedside and Dori would arrive in the morning so John could go back to work for the day.
In addition to her parents' support, Kaitlyn's sister, Morgan, was there to offer encouragement every step of the way, especially when Kaitlyn began to lose her hair due to treatment. Morgan would give her a friendly head rub and tell her how beautiful she looked, and how soft her head was. Another beacon of support during Kaitlyn's treatment was her grandmother, a retired oncology nurse, who never missed an appointment.
Remaining positive and making friends
Despite the rough road, Kaitlyn handled the situation with grace. She remained upbeat and positive, even during the roughest patches. "She is very, very strong. And always keeps a brave smile on her face. I'm sure she was scared, but she punched through it," says Dori. "Even when I would say, 'I just wish this wasn't happening to our family', Kaitlyn would remain positive and would respond with: 'I don't … because then someone else would be feeling the way we do,' " shares Dori.
Kaitlyn made friends with other children in the hospital and was always there to offer them support. Even after her treatment was over, Kaitlyn made the trip back to CHOP the next day to see her friend ring the bell in the waiting room, signaling her last day of radiation therapy.
Nothing keeping her down
Kaitlyn has relied on her hobbies to keep her mind off the treatment. Strumming her banjo and working on her golf swing kept her mind focused on better days ahead, when she would master playing John Denver's Country Roads and be able to hit the green with her dad for a round of golf.
In December, Kaitlyn and John traveled to New Orleans to see her favorite football team — the Saints — play, and she happily describes the great food she had. "I tried beignet Lindt chocolate, and chicken and waffles. All of the food looked amazing although, I didn't taste a lot of it because the radiation treatment made it painful," she says. "I really hope to go back someday when my taste buds improve and try more, even crawfish!"
In the meantime, she remains upbeat, helped by her team at CHOP. "We've had a great experience at CHOP," says Dori. "Everyone is really friendly. The nurses and Dr. Womer have been very diligent with all of the exams and making treatment as smooth as possible for Kaitlyn."