Fetal MRI
What is a fetal MRI?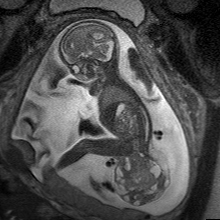 Fetal sacrococcygeal teratoma MRI. ©CHOP/CFDT A fetal MRI is a noninvasive imaging test that offers detailed information about anatomic structures of the fetus, providing clear, high-resolution images. MRI, which stands for magnetic resonance imaging, uses a magnetic field, rather than radiation, to obtain pictures for evaluation. In an ultrafast fetal MRI, images are quickly captured using a "snapshot" technique.
Fetal MRI can supplement the information obtained from your high-resolution fetal ultrasound and can provide additional information regarding your baby's diagnosis. It is performed in the 2nd or 3rd trimester of pregnancy. This type of examination is used to evaluate abnormalities in your baby's brain, spine, and body. MRI may be used to confirm an ultrasound diagnosis or add significant diagnostic information in complex cases.
The ultrafast fetal MRI technique was refined here at Children's Hospital of Philadelphia. Our fetal imaging team performs more than 600 fetal MRIs every year, in addition to the 21,000 MRI's performed annually on children ranging from the first day of life to 18 years and beyond.
Who you might meet during your fetal MRI
Registered MRI technologist: technical staff who specialize in imaging infants, children and pregnant women. The technologists you meet here perform several fetal MRIs every week.
Fetal MRI technology
MRI systems produce magnetic forces – measured in Teslas (T), a unit of change in a magnetic field (flux) – that help to construct detailed internal images. Most MRI machines range between 1.5T to 3.0T in magnetic field strength.
All of the MRI systems at Children's Hospital of Philadelphia are of the "closed bore" type (a long tube or tunnel). These systems provide higher resolution fetal MRI images than "open bore" type systems (shorter and wider).
MRI is routinely used in patients of all ages and in pregnant women. To date, there has been no indication that the use of clinical MR imaging during pregnancy has produced harmful effects. MRI in pregnancy is considered a standard of care by the American College of Radiology and this standard applies to clinical systems up to 3T strength.
Children's Hospital has established itself as a leader in fetal MRI. We have been performing these scans since 1994. Currently, we perform fetal MRIs on both 1.5T and 3T magnet systems. CHOP has three 1.5T units and four 3T units (of these, two are state-of-the-art magnets that are used for fetal imaging). One of the 1.5T systems is dedicated solely to cardiac and fetal imaging. Imaging at 3T has the potential to provide increased signal, faster scan times, and increased anatomic visualization.
Preparing for your fetal MRI
Before entering the MRI room, you will be asked to fill out a metal screening form to ensure you have no devices on or within you that are not safe for imaging. You will be asked to remove all metal items and jewelry before the examination, so we recommend that you consider not wearing these items on the day of your scan.
You should not have caffeine or sugary foods four hours before your MRI procedure, as these foods produce more activity in the fetus and will make it more difficult to get images without motion.
We will ask you to empty your bladder before the MRI for comfort reasons. If you want to listen to music during your scan, you may bring a CD or MP3 from home. Pandora is also available for use.
What to expect during your fetal MRI
We do our best to put you into the MRI system feet first.
We prefer you to lie on your back during the MRI procedure. If you cannot, we will try placing a bolster under your knees to help take the pressure off of your lower back. Lying partially on your side is an alternative option.
Some patients feel claustrophobic during MRI procedures. To relieve this feeling we can give oxygen or allow a companion in the room during the procedure. Other tools to help with relaxation that are available for your use include lavender aromatherapy and listening to music.
If you choose not to listen to music, you will be provided earplugs for ear protection, as the typical MRI scan generates a rhythmic, "thumping" sound.
The MRI examination typically runs between 30 and 45 minutes.
The MRI technologist will speak with you throughout the procedure to ensure you are comfortable and to provide breathing instructions.
After the MRI is performed, all the images are thoroughly reviewed by an attending radiologist. This information is then reported to the maternal-fetal medicine specialist and will be discussed with you and your family at the end of the day.
Additional resources
For more information about the use of magnetic resonance and fetal imaging, we recommend the following three articles:
---
Next Steps
Appointments and Referrals (800-IN UTERO)