Banana French Toast Loaf
Before using, please refer to our Recipe Disclaimer.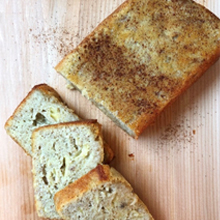 Contributed by Natalie Stoner, RD, LDN, and Paige Vondran, BS
Serves: 3 portions
220 kcal per portion
Ingredients
2 raw eggs
¼ cup almond flour
2 Tbsp. melted butter
1 small banana
2 tsp. honey
Directions
In a mixing bowl, combine all ingredients together.
Stir until smooth.
Grease a loaf pan with butter.
Pour mixture into greased loaf pan spreading evenly.
Bake in a preheated 350°F oven for 30-35 minutes until firm.
Allow to cool before removing from pan.
Cut into slices and serve warm.
Tips and tricks
This recipe can be stored in an airtight storage bag for 3-5 days or frozen for up to 2 months.
Banana can be substituted with other fruits such as raspberries, strawberries, pineapple, etc.
Sweetness level can be modified by adjusting the amount of honey.
---
Next Steps
Appointments and Referrals