Butternut Squash Soup
Before using, please refer to our Recipe Disclaimer.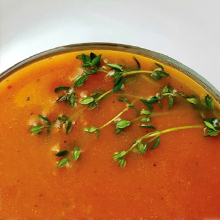 Contributed by Natalie Stoner, RD, LDN, and Paige Vondran, BS
Serves: 5 bowls
150 kcal per bowl
Ingredients
4 cups raw butternut squash, cubed
1 carrot, chopped
1 celery stalk, chopped
1 onion, chopped
4 cups chicken broth (legal or homemade)
2 Tbsp. butter
Small bunch of thyme sprigs
Dry seasonings: salt and pepper
Directions
Melt butter in a large pot over medium heat.
Add chopped celery, carrot, and onion.
Season with salt and pepper.
Stir to coat in the butter.
Cook for 10 minutes until fragrant.
Deglaze the pot with chicken broth.
Add butternut squash cubes and thyme sprigs.
Bring the ingredients to a boil, then reduce to a simmer.
Cover with a lid and simmer for 45-60 minutes.
Transfer the mixture to a high quality large blender.
Secure blender lid and puree until smooth.
Once blended, return soup back to the pot.
If the mixture is too thin, boil the soup for 5-10 minutes until thickened.
Season once again with salt and pepper to taste.
Serve warm.
Tips and Tricks
This soup can be stored in a sealed storage container for 5-7 days in the refrigerator or up to 2 months in the freezer.
Chicken broth can be substituted with stock or other flavors.
To make a different flavor soup, substitute the butternut squash with vegetable of choice.
For extra calories, 1 Tablespoon of butter can be added to each bowl prior to serving.
---
Next Steps
Appointments and Referrals