Cauliflower Crust Tomato Pie
Before using, please refer to our Recipe Disclaimer.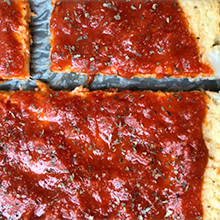 Contributed by Natalie Stoner, RD, LDN, and Paige Vondran, BS
Serves: 3 portions
240 kcal per portion
Ingredients
3 ½ cups mashed cauliflower
½ cups parmesan cheese
2 raw eggs
½ cup Rao's marinara sauce
1 Tbsp. olive oil
Dry seasonings:
Salt, pepper, garlic powder, and dried oregano
Directions
Cook cauliflower until hot and tender.
Transfer the cooked cauliflower to a blender or food processor.
Blend on high speed until cauliflower is completely smooth.
In a mixing bowl, combine the mashed cauliflower, parmesan cheese, and raw eggs.
Season with salt, pepper, garlic powder, and dried oregano.
Stir to combine all ingredients.
Over a baking sheet with parchment paper.
Scoop mixture onto parchment paper.
Spread the mixture over the parchment paper approximately ¼ inch thick.
Shape the mixture into a rectangular pizza; the edges should be slightly raised.
Bake in a preheated 350°F oven for 25-30 minutes until golden brown.
Remove baking sheet from the oven.
Spread marinara sauce evenly over cooked crust.
Drizzle olive oil over top and season with garlic powder and dried oregano.
Tips and Tricks
Rao's marinara sauce can be substituted with homemade marinara or other brands.
Toppings can be added on top of the pizza such as black olives, mushrooms, basil leaves, homemade meatballs, etc.
Olive oil may be omitted.
Other dry seasonings can be added such as Italian seasoning, basil, red pepper flakes, etc.
Cheeses can be added on top for a cheesy pizza.
---
Next Steps
Appointments and Referrals