Crunchy Fish Sticks
Before using, please refer to our Recipe Disclaimer.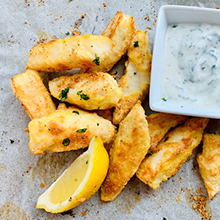 Contributed by Natalie Stoner, RD, LDN, and Paige Vondran, BS
515 kcal per serving
Serves: 2
Fish Sticks Ingredients
2 raw eggs
4 cooked cod fillets (or any fish)
¼ cup grated parmesan cheese
Salt & pepper
Dill Dip Ingredients
¼ cup homemade plain yogurt
Squeeze of lemon
1 Tbsp. fresh dill
1 Tbsp. chopped garlic
Onion powder, salt & pepper
Directions
Preheat oven to 350°F.
On a cutting board, slice the cooked fish into strips.
In a small bowl, beat the 2 eggs with a fork to combine the yolk and white.
Carefully place the fish strips into the beaten egg, coating all sides.
In a second bowl, combine the parmesan cheese, salt and pepper.
Gently transfer the fish sticks out of the egg mixture into the parmesan cheese.
Coat the fish with parmesan cheese on all sides.
Cover a baking sheet with parchment paper.
Transfer the breaded fish sticks to the parchment paper covered baking sheet.
Place in the oven and bake for 15-20 minutes, flipping halfway through to brown on all sides.
While the fish sticks are baking, assemble the dipping sauce by combining all ingredients.
Serve the fish sticks warm with the dipping sauce.
Tips and Tricks
Other dry seasonings can be used such as paprika, onion powder, or garlic powder for additional flavor.
This recipe can be refrigerated for 2-3 days or frozen for up to 2 months in an airtight sealed sandwich bag.
---
Next Steps
Appointments and Referrals