Zucchini Noodles with Fresh Pesto
Before using, please refer to our Recipe Disclaimer.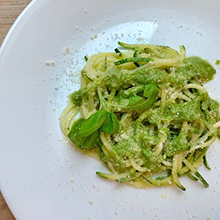 Contributed by Natalie Stoner, RD, LDN, and Paige Vondran, BS
620 kcal per portion
Serves: 1 portion
Ingredients
1 package pre-cut zucchini noodles
(or 4 small zucchinis, spiralized)
¼ cup olive oil+ 1 Tbsp.
2 Tbsp. parmesan cheese
1 cup fresh basil leaves
2 garlic cloves
Salt, pepper & onion powder
Directions
Warm 1 Tablespoon of olive oil in a sauté pan.
Add the spiralized zucchini noodles to the pan and stir to coat in the oil.
Continue to cook the noodles on a medium heat.
In a food processor, combine the remainder of olive oil, parmesan cheese, basil, and garlic.
Season with salt, pepper and onion powder.
Secure the lid and blend the ingredients until smooth.
Once the zucchini noodles are cooked and slightly soft (3-5 minutes), transfer to a serving plate.
Top the noodles with the fresh pesto.
Tips and tricks
Nuts can be added to the pesto for a heartier, and denser in calorie option.
Other veggie pastas can be used such as spiralized butternut squash or spaghetti squash.
This recipe should not be frozen, otherwise it will become soggy.
Cheeses can be added to the pesto or sprinkled over top.
---
Next Steps
Appointments and Referrals