About the Diversity, Equity, and Inclusion Programs at CHOP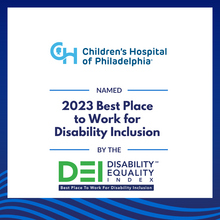 Creating a safe, culturally competent, diverse and caring environment is at the foundation of everything we do at Children's Hospital of Philadelphia (CHOP). As a leading pediatric healthcare system, we know how many individual lives we impact on a daily basis, and we take our responsibility seriously to uphold these values and standards.
Inclusion and diversity are critical drivers for creating the ideal experience for every patient, family, employee and member of the communities we serve.
When we talk about diversity across our workforce and the patients and families we serve, we are referring to the variety of personal experiences, values, and worldviews that arise from differences of culture and circumstance. Such differences include, but are not limited to: race, ethnicity, gender, age, religion, language, sexual orientation, gender identity/expression, abilities/disabilities, socioeconomic status and geographical region.
Inclusion is all about creating a culture in which all of our employees, patients and families feel valued, understood and welcomed.
What does this look like?
Every day, and in everything we do, we seek opportunities to embrace new perspectives, ideas, working styles and ways of thinking.
We work tirelessly to hardwire these different perspectives into practice, so it comes naturally to everyone across our system to seek out, recognize and leverage diverse points of view and experiences.
Research shows that when your workforce reflects your patient population, patients have better outcomes. By creating a workforce reflective of our diverse patient population, as well as the communities we serve, we ensure our ability to deliver compassionate, culturally competent, family-centered care.
Diverse teams also tend to be more innovative — which is particularly important for a place like CHOP where innovation is part of the fabric that allows us to deliver the best possible care to the children we treat.
By embracing and celebrating our differences, we can continue to make breakthroughs that will improve the lives of children around the world — and create an environment where every person who walks through our doors will feel at home.
Some of our initiatives and activities supporting these goals include:
Monthly cultural heritage celebrations for employees, patients and families
Employee education sessions on topics like cultural competency, LGBTQ issues, unconscious bias and more
Diversity Council, chaired by President and Chief Executive Officer Madeline Bell
---
You Might Also Like