Bicycle and Sports Safety Products
Going for a ride on your bike, scooter or boat? Out for a day on the slopes or at the beach? Don't forget your helmets and lifejackets before heading out for a day of fun!
To keep you and your family safe while spending quality time together, the Safety Center at CHOP offers helmets, elbow, knee and wrist pads and lifejackets, at affordable prices.
Price selection and availability may vary. Please email the Safety Center with any questions.
Bicycle helmet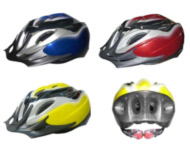 CPSC (Consumer Product Safety Commission) Bike Helmet Standards
Fits both children and adults
Sizes (head circumference): Small (19.68" to 22.04"), medium (21.25" to 22.83"), large (22.83" to 24.01"), extra large (23.22" to 25.4")
Price: $10.00
Appropriate size determined by head circumference and fit
15 Vents for maximum cooling
Reattachable snap on visor
Quick release Nexus buckle
Toddler bike helmet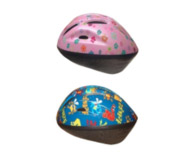 CPSC Bike Helmet Standards
Head circumference: 18.11" to 20.47"
Price: $10.00
Appropriate size determined by head circumference and fit
Adjustable SNUGFIT retention system
Aerodynamic plastic micro shell
Quick release Nexus buckle
Shock absorbing EPS liner
Toddler bike helmet with extended coverage on sides and back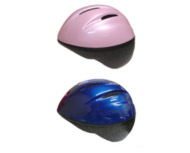 CPSC Bike Helmet Standards
Head circumference: 18.11" to 19.68"
Price: $10.00
Appropriate size determined by head circumference and fit
Shock Absorbing EPS Liner
Aerodynamic Plastic Micro shell
Quick Release Nexus Buckle
Three Customized Fit Pad Sets
Multi-sport dual-certified helmet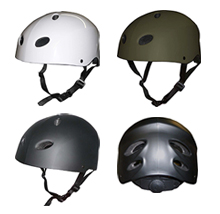 ASTM 1492 Skateboarding and Skating Standard, CPSC Bicycle Helmet Standards
Fits both children and adults
Sizes (head circumference): Small (20.86" to 22.04"), medium (22.04" to 22.83"), large (22.83" to 23.62")
Price: $12.00
Appropriate size determined by head circumference and fit
Shock absorbing EPS liner
ABS impact dispersing outer shell
Quick release Nexus buckle
Sponge foam customized adjustment fit pad set
Turn ring for Instant Fit Adjustment
11 vents allow cool air in and warm air out
Ski/snowboard helmet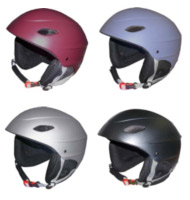 ASTM 2040 Certified
Fits both children and adults
Sizes (head circumference)  : Extra small (18.89" to 20.47"), small (20.47" to 21.65"), medium (21.65" to 22.83"), large (22.83" to 24.01"), extra large (23.28" to 25.19")
Price: $22.00
Appropriate size determined by head circumference and fit
Thermoplastic ABS outer shell with shock absorbing EPS inner liner
4 vents with mesh covers keep ventilation flowing
Quick release Nexus buckle
Stretch goggle to hold your goggles in place
Dial turn ring provides a perfect fit (not available in XS size)
Removable, plush ear pads are soft and comfortable (XS size not removable)
Knee/elbow/wrist guard set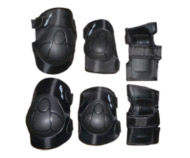 Includes: (2) elbow; (2) wrist; (2) knee guards
Sizes: Small, medium, large
Price: $10.00
Hard capped 600-D abrasion resistant cordura
Easy adjustable Velcro straps
Drawstring netted storage bag
Infant PFD (Personal Floating Device) - with supportive collar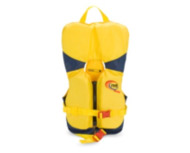 USCG: Type II
Minimum buoyancy 8 lbs. 7 oz.
For pre-swimmers 0 to 30 lbs.
Price: $28.00
Bright grab loop is strong
Adjustable crotch and belly straps secure your infant in the vest
Softest allowed fabric and foam by the US Coast Guard
Child PFD (with collar)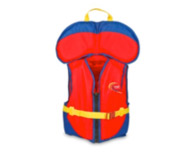 USCG: Type III
Minimum buoyancy 8 lbs. 7 oz.
For young children 30 to 50 lbs. with some swimming ability
Added collar for more head support
Price: $31.00
Perfect for paddling or anytime playing around water
Grab loop designed to hold the full weight of a wet child
Crotch strap keeps them in securely when lifting out of the boat or the water
Soft collar lies flat when out of the water
Child Livery PFD (no collar)
USCG: Type III
Minimum buoyancy 7 lbs.
For young children 30 to 50 lbs. with some swimming ability
Price: $22.00
Lightweight and easy to adjust
Open sides and three points of adjustment for fit
Crotch strap
Approved for general boating, paddle sports, sailing, PWC, towables and water skiing
Youth Livery PFD
USCG: Type III
Minimum buoyancy 11 lbs.
For children and youth 50 to 90 lbs. with some swimming ability
Price: $23.00
Lightweight and easy to adjust
Open sides and three points of adjustment for fit
No crotch strap
Approved for general boating, paddle sports, sailing, PWC, towables and water skiing
Youth Reflex PFD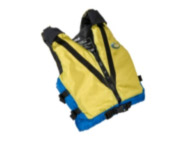 USCG : Type III
Minimum buoyancy 11 lbs.
Fits kids 50 to 90 lbs; typically 5 to 10 years old
Price: $35.00
Dual side straps and clip closured waist strap
Adjustable shoulders, plus 7 additional adjustment points
Soft and durable 300 D Polyester shell that's bright for high visibility
Livery Sport PFD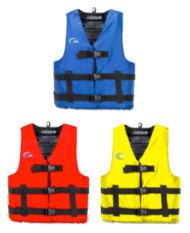 Chest circumference : XS/S (30" to 36"), M/L (36" to 44"), XL/XXL (44" to 56")
USCG : Type III
Minimum Buoyancy : 15 lb 8 oz
Fits children and adults 90 lbs. or more
Price: $25.00
Approved for general boating, paddle sports, sailing, PWC, towables and water skiing
Rugged 300D Polyester is soft and mildew resistant.
PVC-free foam is eco-friendly
Durable clips