Car Safety Products
It is very important to restrain your child properly during every road trip. The Safety Center at CHOP offers car seats, booster seats, "Dream-Ride" infant car bed for premature and/or low-birth-weight infants, and E-Z-On vest® for children with special needs.
Price, selection and availability may vary. Please email the Safety Center if you have any questions about these items.
Learn more about car seat safety.
Car seats from the Safety Center at CHOP

Chicco KeyFit30
Price: $135
Weight: 4 to 30 lbs.
Height: up to 30 inches
Evenflo Sonus Convertible Seat
Price: $61
Weight: 5 to 50 lbs.
Height: 19 inches to 50 inches
Rear-facing : 5 to 40 lbs. and 19 to 40 inches
Forward-facing : 22 to 50 lbs. and 28 to 50 inches
Diono Radian 3 R Convertible + Booster Seat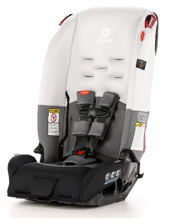 Price: Contact the Safety Center at safetycenter@email.chop.edu for more information.
Weight: 5 to 100 lbs.
Height: up to 57 inches
Rear-facing 5 to 40 lbs. and 44 inches or less
Forward-facing 20 to 65 lbs. and 57 inches or less
Booster 50 to 100 lbs. and 57 inches or less
Evenflo Maestro Combination Seat
Price: $61
Weight: 22 to 110 lbs.
Height: up to 57 inches
With the 5-point harness
Weight: 22 to 50 lbs.
Height: 28 to 50 inches AND the tops of their ears are below the top of the child restraint headrest.
Age: At least 1 year of age
For booster use
Weight: 40 to 110 lbs.
Height: 43.3 to 57 inches AND the tops of their ears are below the top of the child restraint headrest.
Age: At least 4 years of age
Graco Highback TurboBooster Seat
Price: $49
Weight: 30 to 100 lbs.
Height: 38 inches to 57 inches
Age: 3 to 10 years old
Graco Backless TurboBooster Seat
Price: $27
Weight: 40 to 100 lbs.
Height: 40 inches to 57 inches
Age: 4 to 10 years old
BubbleBum Booster Seat
Price: $30
Weight: 40 to 100 lbs.
Height: up to 57 inches
Age: 4 to 11 years old

CARES Airplane Safety Harness
Price: $50
Weight: 22 to 40 lbs.
Height: up to 40 inches
Diono Angel Adjuster
Price: $7
Rear-facing Diono seats only
Allows seat to sit at a more upright angle for older children
Can add up to 4 inches more room behind the front seats
"Dream-Ride" Infant Car Bed
Price: $84
Weight: 5 to 20 lbs.
Height: 19 inches to 26 inches
E-Z-ON® Vest
Price: $62 to $110