Hypoparathyroidism in Children
What is hypoparathyroidism?
Hypoparathyroidism is caused by underactive parathyroid glands. Parathyroid glands are tiny glands located near the thyroid.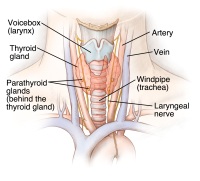 Underactive parathyroid glands do not produce enough parathyroid hormones. This causes low levels of calcium in the bloodstream. The low levels of calcium lead to tetany, an increased excitability of the nerves that cause muscle spasms. 
What causes hypoparathyroidism?
Causes of hypoparathyroidism include accidental removal of a parathyroid gland when the thyroid is removed, or when part of the parathyroid tissue is removed during surgery. Other causes include absent parathyroid glands from birth or a sudden decline in function due to unknown reasons (idiopathic).
What are the symptoms of hypoparathyroidism?
The following are the most common symptoms of hypoparathyroidism. However, each child may experience symptoms differently. Symptoms may include:
Numbness around mouth or in hands or feet 

Uncontrollable, painful spasms of the face, hands, arms, and feet

Seizures

Low blood pressure

Emotional instability, anxiety, or depression

Dental problems

Coarse, brittle hair 
The symptoms of hypoparathyroidism may resemble other problems or medical conditions. Always consult your child's doctor for a diagnosis.
How is hypoparathyroidism diagnosed?
In addition to a complete medical history and physical examination, diagnostic procedures for hypoparathyroidism may include blood tests to measure the parathyroid hormone levels.
Specific treatment for hypoparathyroidism will be determined by your child's doctor in consultation with you.
Considerations include such things as:
Your child's health status and past health history

Severity of the condition

Your child's willingness to take medications and tolerate medical procedures

Your beliefs and healthcare practices
Treatment may include an injection of calcium to provide immediate relief of symptoms and/or your child taking calcium and vitamin D tablets for the rest of his or her life.