Why Referring Physicians Partner with CHOP
Why Referring Physicians Partner with CHOP
You want the best care for your patients and their families — and so do we. Our goal at Children's Hospital of Philadelphia (CHOP) has always been to provide children with the highest quality and most advanced care, delivered with compassion, integrity and respect.
We also respect and value the relationship that you, as the referring provider, have with your patient families. That is why we use a shared care model, where CHOP providers partner with patients' local providers to ensure the best outcomes.
World-class care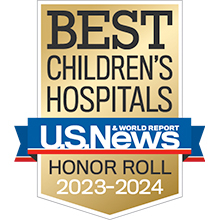 Our physicians are internationally recognized experts in every pediatric specialty, including cancer, cardiac care, fetal medicine, orthopaedics, neonatology, neurosciences, gastroenterology, urology, and endocrinology and diabetes. Children's Hospital is also consistently recognized as a national leader in the advancement of healthcare for children. CHOP has been on the U.S. News & World Report Honor Roll of Best Children's Hospitals in the nation every year since the list was inaugurated in 2009.
CHOP was also awarded Magnet status by the American Nurses Credentialing Center (ANCC). Only about 6% of hospitals in the United States have achieved Magnet status. Hospitals with Magnet status have lower mortality and morbidity rates, better patient outcomes and a shorter length of stay. Magnet status hospitals also attract higher quality professionals, ensuring the CHOP staff are among the best.
Innovation and education
A critical part of our mission to be the leader in advancing healthcare for children is the ability to integrate innovative research into our high-quality clinical care. Children's Hospital of Philadelphia Research Institute is one of the largest pediatric research programs in the country with more than $100 million in total federal awards and an annual budget of more than $250 million. Our research and expertise, which are supported by philanthropic donations, have led to advancements in preventative care as well as groundbreaking treatments.
We are also affiliated with the Perelman School of Medicine at the University of Pennsylvania. U.S. News & World Report has ranked the Perelman's Department of Pediatrics, located at CHOP, as the No. 1 Pediatrics program every year since 2013, making CHOP the premier training ground for future pediatric leaders.
Family-centered care
Every CHOP employee — those with direct patient contact and those working behind the scenes — puts patients and families first in everything we do.
At CHOP, we recognize parents and guardians are key members of each child's care team. We believe that creating an environment of collaboration and respect between families and providers helps us deliver the best care for every child.
We value the opinions and perspectives of families and partner with family members in the care of your patients. Family members are encouraged to participate in the making of healthcare decisions to the level they feel comfortable.
CHOP also offers support services for the entire family to help them navigate through their child's healthcare journey. Social work, child life, case management and language services are just some of the resources available.
Locations across the region
No matter where your patient families live, CHOP is probably nearby. The Philadelphia campus in University City has a 600-plus-bed hospital and provides a range of inpatient, emergency and outpatient care. In January 2022, we opened our second hospital in King of Prussia, and the Middleman Family Pavilion offers another CHOP-staffed location for inpatient care. We also offer care in New Jersey and Pennsylvania through the CHOP Care Network: We currently operate more than 50 pediatrician offices, surgery centers, specialty care centers and urgent care centers, enabling us to provide care for more than 1 million patient visits each year.
Specialized programs
CHOP has dozens of specialty programs for serious and rare disorders such as hyperinsulinism, thoracic insufficiency syndrome, Cornelia de Lange syndrome, eosinophilic esophagitis and biliary atresia. Here, your families will find answers and treatment options that may be unavailable at other hospitals.
Commitment to quality improvement
We strive to ensure every patient receives the safest, top-quality care. We do this by continuously working to improve the way we do things and holding ourselves accountable to the highest standards. At CHOP, we measure our performance, identify areas where we can improve, and then develop quality improvement plans. These quality improvement (or QI) efforts, led by the Center for Healthcare Quality and Analytics, help us offer your patients the best care possible — care that's getting even better every day. After all, there's always room for improvement in the field of healthcare. That's why CHOP is leading the way in developing projects and establishing practices that lead to measurable improvement.
---
Next Steps
Provider Priority Line: Dial 800-TRY-CHOP and Press 2
Central Fax Line (844-FAX-CHOP)