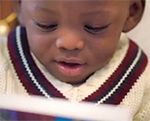 When you read to your child, you do much more than just tell him a story. You stimulate his imagination, help him develop his language and listening skills, and create a special bond between you. To help you and your child create special reading rituals, here is an age-by-age guide to reading development.
6 to 12 months
The best books for children of this age are board books, cloth books, rhyming books and books featuring faces.
While reading, talk with your baby, cuddle, sing and make eye contact.
Point to the pictures and name things while you are reading.
Play games while reading such as pat-a-cake and peek-a-boo.
12 to 24 months
Board books, rhyming books, picture books and books that name things are good for this age.
While reading, smile and answer when your child speaks or points.
Let your child help you turn the pages.
Continue to point to pictures in the books and name objects and people for your child.
Create one or more routine reading times, such as nap time and bedtime.
2 to 3 years
By this age, children are able to select books they enjoy. Help your child select books about topics that interest her. Simple picture books that tell stories are great for children this age. Continue to read to your child regularly.
While you are pointing at objects, ask your child to help you find things in the books. You can ask, "Where is the plane? Can you find the sun?"
Talk about the pictures while you are reading.
3 to 4 years
Children this age enjoy story books with pictures, counting and alphabet books.
Children often like to hear the same stories over and over again. You can ask your child "What happens next?" and "What is your favorite part?"
Talk about the pictures while you are reading.
Get creative with your child. Ask her what kind of ending or beginning she would write for her favorite story.
4 to 5 years
At this age, your child can enjoy more complex stories such as fairy tales or myths, and books with more text and fewer pictures.
See if you can make any connections between your child's life and the story you're reading.
After the story is finished, ask your child to talk about what happened in the story in his own words.
Encourage your child to write and draw. Help her write her own stories and draw the pictures.
Anytime
Bring books along with you to read with your child in restaurants, waiting rooms and bus stops.
Use books to calm and distract your child in stressful situations.
Visit libraries with your child regularly.
Try to read with your child every day.
Contributed by: Patrick S. Pasquariello Jr., MD