Parents Magazine Names Children's Hospital of Philadelphia Among 20 Most Innovative Children's Hospitals
Published on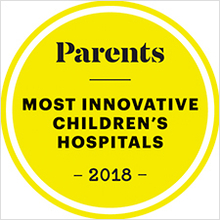 Children's Hospital of Philadelphia was named one of the 20 most innovative children's hospitals by Parents magazine based on the results of a comprehensive survey. The survey, sent to members of the Children's Hospital Association, identified hospitals with a proven track-record of innovations that have led to medical advances. The survey also took into account a hospital's adoption of the latest technologies and its efforts to share its innovations with other pediatric centers so more kids can benefit.
Children's Hospital of Philadelphia was recognized specifically for significant contributions to the development of a new treatment for a certain pediatric leukemia, and efforts to help other hospitals offer this therapy to patients. Our doctors and researchers helped develop the first national and international clinical trials for an immunotherapy known as chimeric antigen receptor ("CAR") T-cell therapy for children with advanced acute lymphoblastic leukemia (ALL). CAR T-cell therapy for B-cell ALL was the first-ever cell therapy to receive FDA approval.
We're honored to be part of this elite group of innovators recognized by Parents magazine.
---
Next Steps
Existing Patients or Family Members
New Patients, Referrals and 2nd Opinions