Calendar Created to Support Hemophilia Program at CHOP
Published on in Beyond Blood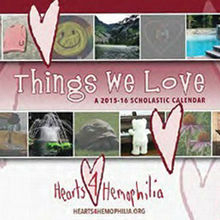 One of our HTC families created a fundraising project to support hemophilia research through the CHOP Foundation.
Zoe, the sister of our patient "Iron Max," wanted to do a project to support her brother and Children's Hospital. She and her friends took photos this summer that they used to create an academic year calendar. Calendar sales raise money for CHOP. The response has been so terrific that Zoe has upped the fundraising goal multiple times.
Max's story was the first one featured in the WOGL Radiothon last September, and Max's grandfather wrote an article in South Jersey magazine.
To learn more about this incredible story and for information on how to get a calendar, please go to Hearts4hemophilia.org. Take a look at the website when you have time. Max and Zoe are an inspiration to us!