CHOP Critical Care Expert Receives Distinguished Career Award
Published on in CHOP News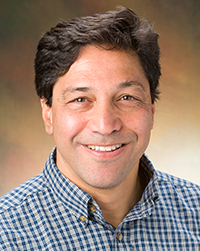 Vinay M. Nadkarni, MD
Vinay M. Nadkarni, MD, to be honored for contributions to pediatric critical care and resuscitation science
October 30, 2012 — The Children's Hospital of Philadelphia is pleased to announce that Vinay M. Nadkarni, MD, a critical care medicine physician and director of the Center for Simulation, Advanced Education and Innovation at CHOP, has received the Distinguished Career Award from the American Academy of Pediatrics Section on Critical Care (SOCC) during their National Conference in Exhibition today in Orlando, FL.
"Dr. Nadkarni is an internationally recognized physician-scientist with a longstanding commitment to the discovery, translation and implementation of shock, trauma and resuscitation science," said Robert Berg, MD, chief of Critical Care Medicine at The Children's Hospital of Philadelphia. "His efforts and passion for advancing the field of critical care medicine worldwide have facilitated learning, idea generation and he has championed change which has helped to save lives."
With a national team of colleagues, Dr. Nadkarni formed a scientific advisory board which founded and obtained funding for an American Heart Association national registry of CPR to collect, analyze and publish national trends in the process and outcome of in-hospital cardiac arrest.
He has authored more than 200 peer-reviewed manuscripts and 25 book chapters related to critical care medicine and resuscitation science. Dr. Nadkarni's appointment to the board of directors of the World Federation of Pediatric Intensive and Critical Care Societies and the AHA's Scientific Advisory and Coordinating Council and the AHA Strategic Planning Committee herald his ability to influence the national and international research and training agendas.
The SOCC Distinguished Career Award was established in 1995 as an annual award to recognize significant career achievements in the field of pediatric critical care medicine by senior leaders in the Section.
The American Academy of Pediatrics Section on Critical Care, founded in 1984, is the leading advocate for critically ill and injured children and a professional home for pediatric intensivists. Its mission is to optimize the care of critically ill and injured children of all ages through educational and professional support of its members. The SOCC provides a forum for pediatric critical care specialists and other members to meet, discuss, and develop ideas, programs, and projects to improve the care of children and to address issues of importance to pediatric subspecialists.
Dr. Nadkarni lives in Media, PA, with his wife and three children.