CHOP President and CEO Madeline Bell Highlights Breakthroughs in New Podcast
Published on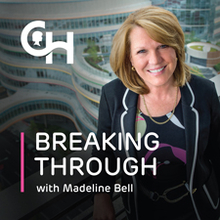 Teams at Children's Hospital of Philadelphia (CHOP) are making breakthroughs that have worldwide impact. And those breakthroughs make for some truly remarkable conversations.
In her new podcast, Breaking Through with Madeline Bell, CHOP's President and CEO talks to CHOP's scientists and physicians about their work, their inspiration and their "breakthrough moments," providing behind-the-scenes insights into some of the team's most amazing discoveries. She also interviews celebrities, business and civic leaders, philanthropists and others who share CHOP's mission of improving children's health.
"I've enjoyed hearing about my guests' personal and professional breakthroughs and learning more about what inspires, challenges and motivates them," says Bell. "There are so many amazing stories at CHOP, and Breaking Through gives me the opportunity to share them with many more people."
In the first three episodes of Breaking Through, you'll learn more about some of the exciting work that's under way at CHOP — and find out how philanthropy is fueling tomorrow's breakthroughs. Stephan Grupp, MD, PhD, Director of CHOP's Cancer Immunotherapy Program, offers new insights into how CAR T-cell therapy is transforming pediatric cancer treatment — and describes how his team is refining the therapy to help even more patients. Hematology researcher Stefano Rivella, PhD, and surgeon William Peranteau, MD, describe their groundbreaking efforts to cure sickle cell disease. And Chris Gheysens, President and CEO of Wawa Inc., talks about Wawa's long relationship with CHOP — and his personal commitment to the hospital.
Breaking Through with Madeline Bell is available on iTunes and Podbean.