CHOP Receives Renewed Magnet Designation
Published on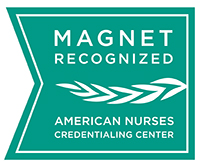 January 27, 2014 — The Children's Hospital of Philadelphia (CHOP) has again attained Magnet® recognition as part of the American Nurses Credentialing Center's (ANCC) Magnet Recognition Program®. This voluntary credentialing program for hospitals recognizes excellence in nursing. This credential is the highest honor an organization can receive for professional nursing practice. CHOP was initially designated a Magnet hospital in 2004 and was the first pediatric hospital in Pennsylvania to receive Magnet status. In 2008 CHOP was re-designated as a Magnet institution.
"Magnet recognition is a tremendous honor and reflects our ongoing commitment to delivering the highest quality care to our patients," said Paula Agosto, MHA, RN, chief nursing officer of CHOP. "To earn Magnet recognition once was a great accomplishment and an incredible source of pride for the more than 2,500 nurses who provide exceptional and compassionate care every day. To achieve our third Magnet recognition is humbling, and it underscores the foundation of excellence and values that drives our entire staff to strive harder each day to meet the needs of the patients and families who choose CHOP."
Magnet recognition the gold standard for nursing excellence
Magnet recognition has become the gold standard for nursing excellence and is taken into consideration when the public judges healthcare organizations. In fact, U.S. News & World Report's annual showcase of "America's Best Hospitals" includes Magnet recognition in its ranking criteria for quality of inpatient care.
To achieve initial Magnet recognition, organizations must pass a rigorous and lengthy process that demands widespread participation from leadership and staff. The process begins with the submission of an electronic application, followed by written documentation demonstrating qualitative and quantitative evidence regarding patient care and outcomes. If scores from the written documentation fall within a range of excellence, an on-site visit will occur to thoroughly assess the applicant. After this rigorous on-site review process, the Commission on Magnet Recognition will review the completed appraisal report and vote to determine whether Magnet recognition will be granted.
An organization seeking to reapply for Magnet recognition must provide documented evidence of how Magnet concepts, performance, and quality were sustained and improved over the four-year period since the hospital received its most recent recognition.
In particular, the Magnet Model is designed to provide a framework for nursing practice, research, and measurement of outcomes. Through this framework, the ANCC can assess applicants across a number of components and dimensions to gauge an organization's nursing excellence. The foundation of this model is composed of various elements deemed essential to delivering superior patient care. These include the quality of nursing leadership and coordination and collaboration across specialties, as well as processes for measuring and improving the quality and delivery of care.
"While I am not surprised that our nursing staff has once again been honored, it is a tribute to our tremendous nurses and demonstrates their commitment to continually pursue ways to improve patient care and safety," said Madeline Bell, president and chief operating officer of CHOP. "Being a Magnet hospital since 2004 has raised the bar for patient care and inspired every member of our team to achieve excellence every day. It is this dedication to providing our patients with exemplary care that helped us become a Magnet facility, and it's why we continue to serve as a Magnet hospital today."
CHOP is one of a select group of 397 healthcare organizations out of nearly 6,000 in the United States to achieve Magnet designation. Hospitals must reapply for Magnet recognition every four years based on adherence to Magnet concepts and demonstrated improvements in patient care and quality.
More information
About The Children's Hospital of Philadelphia
The Children's Hospital of Philadelphia was founded in 1855 as the nation's first pediatric hospital. Through its long-standing commitment to providing exceptional patient care, training new generations of pediatric healthcare professionals and pioneering major research initiatives, Children's Hospital has fostered many discoveries that have benefited children worldwide. Its pediatric research program receives the highest amount of National Institutes of Health funding among all U.S. children's hospitals. In addition, its unique family-centered care and public service programs have brought the 535-bed hospital recognition as a leading advocate for children and adolescents.
About the American Nurses Credentialing Center's (ANCC) Magnet Recognition Program®
The Magnet Recognition Program® administered by the American Nurses Credentialing Center (ANCC), the largest and most prominent nurses credentialing organization in the world, recognizes healthcare organizations that provide the very best in nursing care and professionalism in nursing practice. The Magnet Recognition Program® serves as the gold standard for nursing excellence and provides consumers with the ultimate benchmark for measuring quality of care. See here for more information about the Magnet Recognition Program® and current statistics.