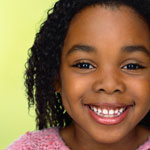 Your child doesn't have to be a prodigy or really into the arts to be creative. Creativity comes in all forms, and is an important skill when it comes to learning to think outside the box and problem-solve. There are many ways to help foster creativity in your child, including the following:
Take your time. Get on the floor and play with your child — and you needn't have any bells and whistles! Good old-fashioned toys such as blocks, Lincoln Logs® and Tinkertoys® are great ways to get your child thinking.
Limit electronics. Electronic toys do come in handy when we need an hour to get something done, but they don't allow the child to do a lot of free thinking. Use what is around your home. Empty boxes, dress-up clothes and household items can all be used as props for imaginative play. Even an empty laundry basket can become a boat, a bus, a stage and anything else your child can come up with.
Get in the game. If your child wants to pretend he is an airplane, stretch out your arms and fly alongside him to Rio or Paris or anywhere else he wants to go. Let your child be the pilot and direct the activity, as play should be the result of your child's ideas.
Don't overschedule. While language classes, flute lessons, soccer and baseball are all great activities, make sure you leave time for unstructured play.
Get moving. Put on some music and invite your child to make up dances or the words to her own songs.
Make an art corner. Designate a space in your home for art projects. A simple table with some crayons and paper plus a small box full of pipe cleaners, googly eyes and cotton balls will be enough to get the creative juices flowing.
"Tell me about that." Ask open-ended questions. If your child writes a story or draws a picture, ask him to describe what he created for you.
Turn off the TV. All the experts agree: Too much TV restricts your child's thinking. If you've ever seen what happens to their eyes and faces as they watch, you know why. Limit television and screen time so they can form their own ideas and keep their minds active.
Read together. Reading books together not only improves children's literary skills, but it allows them to see the story in their own minds and encourages open thinking.
Do your research. Kids have tons of questions, and many you won't know the answers to. Look up the answers with them and discover something together. If the question has many answers, point out that sometimes there are many ways to think about problems.
Contributed by: Patrick S. Pasquariello, MD
Stay in Touch
Are you looking for advice to keep your child healthy and happy? Do you have questions about common childhood illnesses and injuries? Subscribe to our Health Tips newsletter to receive health and wellness tips from the pediatric experts at Children's Hospital of Philadelphia, straight to your inbox. Read some recent tips.