This fall, families face a double threat: COVID-19 and the seasonal flu. As we do our best to prepare our communities, healthcare officials agree: It's vitally important for families not to delay or skip their annual flu vaccinations.
"Flu shots are more critical than ever this year," says Geraldine O'Hare, MSN, CRNP, a nurse practitioner at CHOP Primary Care, Cobbs Creek. "The possibility of catching the flu and COVID-19 – and having both at the same time – poses a very real danger to families."
And while there's no FDA-approved vaccine yet for SARS-COV-2, the virus that causes COVID-19, we do have an established defense against the flu. The influenza vaccine has successfully prevented millions of people worldwide from catching the flu since the vaccine was first approved for public use in the 1940s. Since then, the flu vaccine has been repeatedly proven to be both safe and effective in preventing severe disease and hospitalization.
"It's important for families to get the flu vaccine now – ideally in September or October – before the flu begins actively circulating in our area," O'Hare says.
About the flu vaccine
Influenza – typically known as the seasonal flu – is caused by an ever-adapting mix of influenza viruses that infect the nose, throat and sometimes the lungs. Symptoms may include fever, cough, sore throat, runny or stuffy nose, muscle or body aches, headaches, fatigue, vomiting and diarrhea.
The flu vaccine was designed to jump-start the body's immune system, building antibodies to actively fight viruses that cause the flu. The vaccine provides several health benefits, including: reducing the number of flu illnesses, decreasing the severity of flu illnesses that do occur, and minimizing time missed from school and work. The vaccine also prevents many flu-related hospitalizations and deaths.
For 2020-21, multiple versions of the flu vaccine are approved for use, including:
An inactivated flu vaccine that can be used for babies as young as 6 months old. This version is available by injection only.
A recombinant flu vaccine (which does not include chicken eggs as an ingredient) can be used for people age 18 or older. This flu vaccine comes in both injectable and nasal spray versions. Availability of each depends on region and provider.
An adjuvanted, high-dose, inactivated vaccine used for people age 65 and older. This vaccine includes an adjuvant (ingredient) that helps create a stronger immune response. This version is available by injection only.
Both injectable and nasal spray versions of the flu vaccine are available this year. Flu shots are offered at multiple CHOP primary care and specialty care locations, private physician offices and numerous commercial pharmacies in the region. Talk to your child's primary care provider to determine which vaccine and location is recommended or most convenient for your family.
Who should get the flu vaccine?
Clinicians at Children's Hospital of Philadelphia support the U.S. Centers for Disease Control and Prevention (CDC) recommendations that all people age 6 months or older should receive the flu vaccine every year, with rare exemptions.
The flu vaccine is especially important for individuals at higher risk of developing serious side effects if infected with the flu, including:
Children age 5 or younger (especially those younger than 2) who do not have a fully developed immune system
Adults age 65 or older, whose immune systems may be compromised by age and/or pre-existing conditions
Children or adolescents diagnosed with:

Certain respiratory diseases, such as asthma
Neurological and neurodevelopmental conditions, such as epilepsy, seizure disorders or cerebral palsy
Any form of heart disease
Disorders of the blood, endocrine system, kidneys, liver or metabolic system
A weakened immune system due to certain diseases or treatments

Youth age 18 and younger who are receiving long-term aspirin therapy
People with extreme obesity
Children with household members who have compromised immune systems, such as family members with cancer who are receiving chemotherapy
"Every healthy child and adult should get their flu vaccine as soon as possible," O'Hare says. "It's one way we – as a society – can protect the most vulnerable among us. When most of us get the flu vaccine, we create 'herd immunity,' and protect the weakest or immune compromised members of our community."
Children younger than 6 months old and individuals with severe, life-threatening allergies to the flu vaccine or its ingredients should NOT get the flu shot. If your child has a severe egg allergy, Guillain-Barre syndrome or is not feeling well, you should talk to your child's primary care provider before the flu vaccine is administered to your child.
When to seek help for flu symptoms
If you suspect your child has the seasonal flu, but they are generally healthy, do not have a serious health condition and have only mild symptoms, your child can rest and be cared for at home. You can treat minor symptoms – such as body aches and fevers – with over-the-counter medications like Tylenol® or Motrin®. If your child's symptoms worsen – i.e. difficulty breathing, high fevers or severe muscle aches – or you become concerned for any reason, call your child's primary care provider for advice and next steps.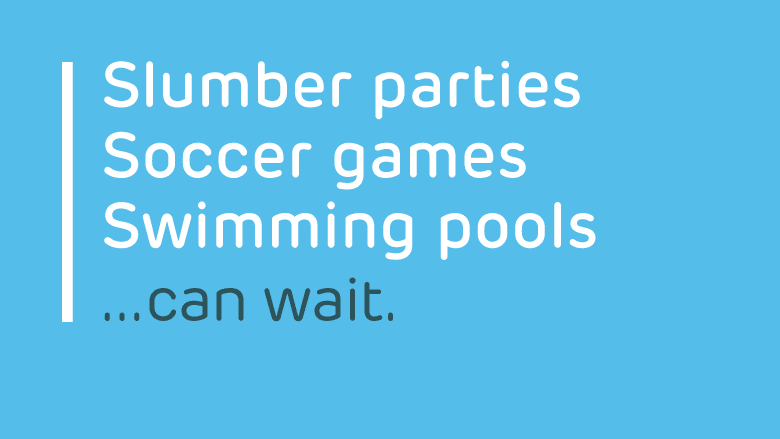 Your Child's Healthcare Shouldn't Wait
Learn more about the dangers of delaying care and why bringing your child to CHOP is safer than ever.
For children with serious health conditions who begin to exhibit flu symptoms, contact your child's primary care provider immediately. You may be asked to bring your child to a CHOP primary, specialty or urgent care location for a rapid flu test. Results of this test will determine possible treatment options, including Tamiflu®, an antiviral medicine, which may be prescribed to lessen symptom severity and speed recovery. In rare cases, your child may be hospitalized until the virus is controlled and symptoms subside.
Additional reading from CHOP's Vaccine Education Center:
Subscribe to Health Tip of the Week e-newsletter
For more advice that will help you keep your child healthy, happy and safe, subscribe to our Health Tip of the Week e-newsletter.
Contributed by: Geraldine O'Hare, MSN, CRNP
---
You Might Also Like