Children living in the neighborhoods around the Children's Hospital of Philadelphia campus in West and Southwest Philadelphia have experienced more than their fair share of trauma, which only increased with the COVID-19 pandemic and the rise in gun violence.
Through programs from CHOP's Healthier Together Initiative, the hospital's five-year, $25-million effort to tackle social determinants of health (like housing, hunger, poverty and trauma), kids facing trauma and their families have places to turn to get help.
"Children in West and Southwest Philadelphia experience traumatic events far too frequently," says Alonzo South, CHOP's Senior Director of Community Engagement. "We know chronic exposure to violence and other trauma can lead to learning challenges and physical and behavioral health issues. As a result, it is critical that we help these children build resilience and buffer them against the traumatic exposure to community violence, as well as grief and loss from the pandemic."
A collaboration among Healthier Together, CHOP's Center for Violence Prevention (CVP), the Netter Center for Community Partnerships at the University of Pennsylvania (the Netter Center) and the community-based provider Uplift Center for Grieving Children (Uplift) provides trauma and grief support services for CHOP Primary Care patient families.
The support program, Growing Resilience in Teens (GRIT), is also available to students and staff in West and Southwest Philadelphia after-school programs.
Launching GRIT
After overcoming pandemic-induced hurdles, GRIT began enrolling families into trauma support services in January 2021. Families are referred by their primary care providers at Karabots Pediatric Care Center and Cobbs Creek Primary Care and either participate in virtual peer-support groups for grief and loss, provided by Uplift, or trauma-informed case management for behavioral health and social services from CVP.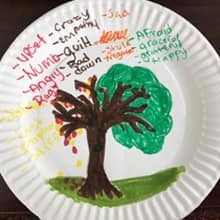 An example of one student's Uplift feelings plate design As part of GRIT, Healthier Together also supports Uplift to work with two of the Netter Center's University-Assisted Community Schools (UACS), where Netter provides comprehensive school day and after-school programming for K-12 students in West Philadelphia. At these schools, grief clinicians from Uplift deliver programming to support students in grades K-8 who are grieving significant deaths or navigating other losses, such as pandemic-driven isolation from school and community or incarceration of a loved one.
Uplift also hosts monthly family empowerment workshops centered on building resilience and understanding grief, trauma and social-emotional health.
In its first year, GRIT connected 172 children and caregivers to trauma support services from CVP and Uplift.
Building on GRIT: Trauma-informed programming school staff
As a complement to GRIT, Healthier Together supports CVP to bring trauma-informed programming to staff at Netter's after-school programs. More than 50 after-school staff members have participated in Trauma-informed Care and/or the Stress Less Initiative workshops led by CHOP's CVP to prepare them to lead the groups and workshops.
"The Stress Less Initiative trainings provided by CHOP allow time for bonding among team members, which is so important for building a team that can best address the needs of these children," says Latifah Anderson, the Netter Center's UACS Site Director of Hamilton and Mitchell elementary schools.
Supportive partners
A GRIT care package The GRIT program is supported by a $750,000 grant from TD Bank through its TD Ready Challenge.
The Mattel Children's Foundation gave Healthier Together a $10,000 Wellness Grant to provide care packages to GRIT participants. Kids received a stress ball, water bottle, crayons, face mask and Jenga game — all to help them remember the lessons in how to de-stress that they learned in their sessions and to encourage them to draw on those skills when needed to stay resilient.
In Healthier Together's first 2 years:
Impacted more than 6,800 individuals directly
Entered into 15 partnerships and collaborations with local businesses and organizations
Renovated 97 homes to reduce asthma triggers
Distributed 23,800 meals to families, including frozen dinners and boxes of farm-fresh produce
Awarded $1.1 million in contracts to local, diverse businesses in support of programming