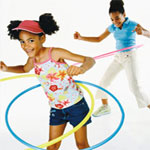 Getting more exercise is one of the most common New Year's resolutions. For today's youth, it could not be more important. More than 15 percent of all American school children are overweight or obese. Children of all sizes spend much more time in front of TVs, computers and other screens. With homework and after-school activities, it's hard to find time for an active lifestyle. However, studies show that the habits learned in childhood are more likely to stick with you as an adult. If sports and physical activities are priorities for your family, it will provide a strong foundation for your child as she grows into adulthood.
Here are some great ways to start a plan to get moving:
Talk to your child about what activity he might enjoy. Not all kids are into organized sports, but there are other options such as martial arts, swimming and running outdoors that might appeal to your child.
If your child likes playing organized sports, be sure to sign her up on a regular basis. Many neighborhoods and local recreation centers have leagues for baseball, basketball and soccer. Talk to other parents to get ideas. If your child has a friend who plays on a particular team, see if you can arrange for your child to be on the same team.
Demonstrate healthy habits. If you engage in regular exercise and model active behavior, your children will be more likely to take it up and enjoy it.
Whenever you get a chance, play with your child. Take him out to shoot hoops, toss or kick a ball, ride bikes together or visit a playground.
Make sure you choose age-appropriate activities for your child. Younger children can't lift weights or run long distances, but they can ride bikes and play certain sports.
Choose toys that encourage activity such as jump ropes, balls, skateboards, bikes and scooters (be sure to follow safety guidelines such as wearing protective gear and helmets).
Turn off that TV! After school activities and homework eat into your child's exercise time. It's healthier if you use any extra time being active instead of watching TV.
Remember to be safe and to not overdo it. Let your child know she should listen to her body. If she feels too short of breath or lightheaded, have her sit down and rest.
Contributed by: Patrick S. Pasquariello Jr., MD
Stay in Touch
Are you looking for advice to keep your child healthy and happy? Do you have questions about common childhood illnesses and injuries? Subscribe to our Health Tips newsletter to receive health and wellness tips from the pediatric experts at Children's Hospital of Philadelphia, straight to your inbox. Read some recent tips.