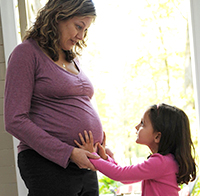 Although smoking awareness campaigns have helped decrease the number of pregnant women who smoke, there are many women who continue with their habit during pregnancy. And now, a new study shows that maternal smoking can impair infant immunity, causing a wide range of infections, hospitalizations and even death.
The study, Maternal Smoking During Pregnancy and Infant Infectious Disease Morbidity and Mortality, published in the journal Pediatric Infectious Diseases, examined the hospitalization and death records of 50,000 infants between 1987 and 2004. The infants of mothers who smoked were twice as likely to be admitted to a hospital or die due to complications from a wide variety of infectious diseases, both respiratory and non-respiratory in nature.
These results suggest that smoke exposure harms infants' immune responses as a whole, and not just their respiratory system.
Ways that smoking can harm a fetus
In addition to suppressed immune response, there are several other issues expectant mothers need to be aware of when it comes to smoking. Cigarette smoking can damage the fetus in a number of ways:
Low birth weight
Preterm birth
Still birth (fetus dies in the womb)
Increased risk of birth defects
Poor lung development
Asthma and respiratory infections
Increased risk of SIDS (Sudden Infant Death Syndrome) after birth
Physical growth deficiency
Behavioral problems
Protect your unborn baby by quitting smoking
Quitting smoking is the best way to ensure that you and your baby are healthy. If you are a smoker and you are pregnant or considering becoming pregnant, ask your physician about support for smoking cessation. Seeking medical advice is especially important if you're considering nicotine replacement therapy or other pharmaceuticals for smoking cessation as these may cause adverse effects on you and your unborn baby.
Contributed by: Patrick S. Pasquariello Jr., MD
Stay in Touch
Are you looking for advice to keep your child healthy and happy? Do you have questions about common childhood illnesses and injuries? Subscribe to our Health Tips newsletter to receive health and wellness tips from the pediatric experts at Children's Hospital of Philadelphia, straight to your inbox. Read some recent tips.