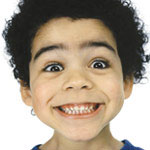 When you think of television and your children, you're probably most concerned about them watching too much. But there is another danger associated with TVs and children: falling sets.
According to a recent study in Pediatrics, more than 12,000 children were injured by falling television sets in 2011 — a 125 percent increase since 1990. Almost half of those incidents were caused by TVs falling off of an armoire or dresser, and another 30 percent were caused by sets falling from an entertainment center or TV stand. Children less than 5 years of age were most likely to be hurt. Most children sustained injuries to the head, neck and legs.
There are many things parents can do to help keep their kids safe from falling TVs:
Secure your TV with safety anchors or anti-tip devices to prevent it from falling. If you have a flat-screen TV, make sure it is attached securely to the wall.
Keep your TV on low furniture and as far back as possible. Be sure the piece of furniture you put the TV on is big enough to hold it.
Instruct your children to sit a few feet away from the television.
Do not place the remote control, toys or food on top of your TV. If your child tries to reach for these items, she could pull the television down on top of her.
For more child safety information, please visit the Kohl's Injury Prevention Program.
Contributed by: Patrick S. Pasquariello Jr., MD