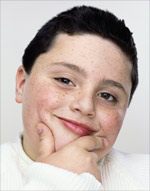 November is American Diabetes Month, a time to recognize the millions of Americans who live with diabetes on a daily basis. Type 1 diabetes is the second most common chronic childhood illness. According to the Centers for Disease Control and Prevention (CDC), each year, more than 13,000 young people are diagnosed with type 1 diabetes in the United States.
Type 1 diabetes, formerly called juvenile diabetes, occurs when antibodies attack the beta cells in the pancreas, causing them to stop making insulin. Insulin is a hormone that converts sugars into nutrients and feeds those nutrients to our cells. Without insulin, sugar builds up in the bloodstream, which causes hyperglycemia or high blood sugar. Without treatment, this excess sugar in the blood can cause severe damage to the body and can be fatal.
Type 1 diabetes is usually diagnosed in childhood and adolescence, but it can be diagnosed at any age. The exact cause of type 1 diabetes is not known, but it is an autoimmune disorder where the person's immune system attacks the insulin-producing beta cells in the pancreas, and autoimmune conditions can sometimes be seen in families. If your child is diagnosed with type 1 diabetes, it's important to understand that there is nothing you could have done to prevent it.
Symptoms of type 1 diabetes
Type 1 diabetes can appear at any time during childhood — including infancy. It's important to look for these symptoms and to notify your pediatrician immediately if your child displays any of the following:
Increased and significant thirst. Excessive demand to breastfeed in an infant might be a sign of excessive thirst.
Increased urination. Babies may need very frequent diaper changes and toilet-trained children may start wetting themselves and/or wetting the bed more often.
Increased appetite but weight loss
Dehydration
Severe diaper rash that doesn't respond to regular treatments
Excess drowsiness or fatigue
Persistent vomiting
Your pediatrician should test the sugar levels in your child's blood. Once the test confirms diabetes, treatment must begin immediately.
Treating type 1 diabetes
Children with type 1 diabetes may require a brief hospital stay while their blood sugars are controlled and a treatment plan is created. Insulin therapy is the treatment for type 1 diabetes. Your child will need to take daily insulin injections to replace the insulin her body no longer makes on its own. A healthy diet and regular exercise also helps control blood sugar levels.
While diabetes is a condition your child will have to manage every day, it should in no way prevent him from doing all the activities he enjoys. With proper care and treatment, your child has the best chance to live a full and active life.
At CHOP, the Diabetes Center for Children provides multidisciplinary care and education for patients and families.
Contributed by: Patrick S. Pasquariello Jr., MD