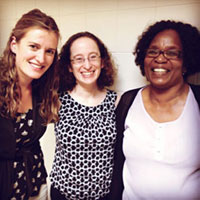 Global Health fellow Kate Westmoreland, MD, with Elizabeth Lowenthal, MD, a CHOP pediatrician who has worked extensively in Botswana, and Seipone Mphele, a psychologist at the University of Botswana. CHOP's David N. Pincus Global Health Fellowship Program gives pediatricians the opportunity to provide care and develop and conduct research in the Dominican Republic and Botswana/South Africa. In this issue, our 2013-2015 Global Health fellows, Kate Westmoreland, MD, and Chloe Turner, MD, reflect on their experiences.
Making Improvements, Sustaining Change
Dr. Westmoreland will be living and working in southern Africa for the next two years, rotating between Princess Marina Hospital in Gaborone, Botswana and Sparrow Village, an orphanage for children living with or orphaned by HIV/AIDS in Johannesburg, South Africa. She writes:
"I am so grateful to be here in Africa. Half of my time is spent clinically on the pediatric ward at the local public referral hospital, Princess Marina Hospital. It is very exciting to be working with the local University of Botswana medical students and residents. In November, I had my first month of service on my own as an attending and I am very excited to learn, teach medical students and residents, take care of patients, get to know families, and hopefully make some lasting improvements along the way.
The other half of my time is spent on a research project. I have been having a lot of meetings and brainstorming sessions with mentors and other key leaders here to try to come up with the project that is the best fit for me and will have the biggest impact on Botswana.
I have also spent some time at Sparrow Village and absolutely loved my time there. I was simply amazed and inspired by the children. It is such a wonderful place and I feel privileged to be involved.
I am excited to see how the next two years will continue to unfold and am so grateful for this experience. I am passionate about putting all of my energy into these various projects to make them successful, sustainable and impactful."
Kids First in the Dominican Republic
Dr. Turner works in Consuelo, Dominican Republic, where healthcare professionals provide care to impoverished children aged 0 to 5 at CHOP's pediatric clinic, Niños Primeros en Salud (Kids First Consuelo). She also works at Clínica de Familia, an HIV clinic in the city of La Romana. In September 2013, she sent the following reflection: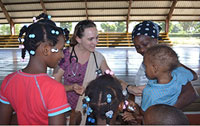 CHOP Global Health fellow Chloe Turner, MD, cares for children in the Dominican Republic.
"It's hard to believe that I have been here for six weeks — time sure does fly. The Dominican Republic is a beautiful country — there is an abundance of green, tropical foliage and bright sun, with houses of wood or tin painted a variety of bright colors (yellow, green, pink, blue). Dominican hospitality is remarkable — people are warm and friendly, and I have already been graciously welcomed into many homes here.
I have been settling into the routine of both the primary care under-5-year-old clinic in Consuelo (Niños Primeros en Salud, or NPS) and the HIV clinic in La Romana (Clínica de Familia). My Dominican colleagues are enthusiastic, warm, patient and incredibly dedicated to their work. I am grateful to learn from them and work with them.
I am thrilled, honored and grateful to be here, and I look forward to learning, adventures and growth over the next two years. I am excited to share my experiences with you along the way."