Child Life Internship
Important update regarding Summer 2020 session
See below for more information.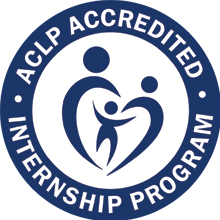 A comprehensive child life internship training program, accredited by the Association of Child Life Professionals, is offered three times a year at Children's Hospital of Philadelphia. Internship training is an integral requirement for students who are planning a career as a certified child life specialist. Information about certification process, coursework and eligibility requirements for certification along with career planning information can be found at the Association of Child Life Professionals website.
Internship positions at Children's Hospital of Philadelphia are full time (40 hours/week) for 16 weeks.
Interns are involved in the planning and implementation of a developmentally and emotionally supportive programming for infants, children and adolescents. Students are expected to incorporate play, emotional support, healthcare education and family involvement in order to enhance the social, emotional, intellectual and physical well-being of children and families in the healthcare setting.
Interns rotate through two different areas of the Hospital during their experience. A variety of both inpatient and outpatient areas will be offered each semester for students to have training opportunities in. Interns have the ability to give feedback about which areas in the Hospital are most interesting to them. Final placement decisions are made at the discretion of the student program coordinators.
Requirements
Internship students must be college seniors or college graduates with a strong background in child development or a closely related field. Bachelor's or master's level academic preparations are accepted.
Child life intern applicants must complete the Association of Child Life Professionals course review through the Eligibility Assessment and have documented verification of a minimum of 10 approved courses, including a course taught by a CCLS, completed prior to applying to the internship program. Please refer to the internship packet checklist for a complete listing of prerequisites.
Applicants must have at least 100 hours of student or work experience with children individually or in group settings (such as camps, day cares, developmental centers, etc.).
Applicants must have completed a minimum of 100 hours practicum experience working under the direct supervision of a Child Life Specialist in a healthcare setting. The practicum experience in a pediatric healthcare setting is a requirement. Additional hours in other settings should be included on your application.
The outline requirements must be met by the application postmark deadline for the candidate to be considered. Children's Hospital of Philadelphia does not accept "in progress" for the requirements, including but not limited to the academic course requirements, eligibility assessment and child life practicum experiences.
Interns do not need a bachelor's degree in child life. Many child life staff have degrees in child development, human development and family studies, psychology, etc.
Start/end dates
The start/end dates are established with limited flexibility:
Fall 2020 session: Aug. 31, 2020 — Dec. 18, 2020. Application postmark deadline: March 15, 2020
Spring 2021 session: Thank you for your interest in our Spring 2021 session. Our department will not be accepting Child Life Internship/Practicum applications for this term, due to the impact of COVID19. If you have submitted an application, it will be returned along with your fee. However, if you would like for it to be considered for the Summer 2021, we would happily retain your application. Please reach out with questions to our Training Coordinator at childlifestudentprograms@email.chop.edu or 267-426-2790. (Revised 7/13/20)
Summer 2021 session: May 10, 2021 — Sept. 3, 2021. Application postmark deadline: Jan. 5, 2021
All application materials must be postmarked by the stated application deadline to be considered a candidate for the session. Hand-delivered applications will not be accepted.
Children's Hospital of Philadelphia follows the ACLP's recommended application deadlines and process, including acceptance and offer procedures. All notification communication is through email.
Please email the Student Programs Coordinator with any questions regarding the start and end dates.
Housing
The Children's Hospital of Philadelphia does not provide housing for students. However, rooms and apartments are available for rent from Sansom Place Guest Accommodations through The University of Pennsylvania, located adjacent to Children's Hospital of Philadelphia. Students who are accepted to the student program who contact Sansom Place Guest Accommodations for housing must notify the staff at Sansom Place that they are CHOP-Child Life, Education and Creative Arts Therapy students.
Apply
For more detailed information about the child life internship experience, please download the internship application, which includes the Intern Job Description and Application.
Application is not a guarantee of acceptance. A limited number of students will be accepted each session. The number of students accepted will vary from semester to semester due to the number of applicants and supervisor availability. Generally we accept two to four child life interns.
Contact us
For more information about professional education in Child Life, Education and Creative Arts Therapy, please call 267-426-1340 or email childlifestudentprograms@email.chop.edu.