Child Life Internship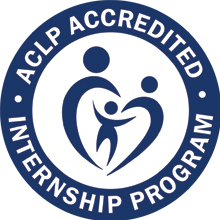 A comprehensive child life internship training program, accredited by the Association of Child Life Professionals, is offered three times a year at Children's Hospital of Philadelphia. Internship training is an integral requirement for students who are planning a career as a certified child life specialist. Information about certification process, coursework and eligibility requirements for certification along with career planning information can be found at the Association of Child Life Professionals website.
Internship positions at Children's Hospital of Philadelphia are full time (40 hours/week) for 16 weeks.
Interns are involved in the planning and implementation of a developmentally and emotionally supportive programming for infants, children and adolescents. Students are expected to incorporate play, emotional support, healthcare education and family involvement in order to enhance the social, emotional, intellectual and physical well-being of children and families in the healthcare setting.
Interns rotate through two different areas of the Hospital during their experience. A variety of both inpatient and outpatient areas will be offered each semester for students to have training opportunities in. Interns have the ability to give feedback about which areas in the Hospital are most interesting to them. Final placement decisions are made at the discretion of the student program coordinators.
Requirements
Internship students must be college seniors or college graduates with a strong background in child development or a closely related field. Bachelor's or master's level academic preparations are accepted.
Child life intern applicants must complete the Association of Child Life Professionals course review through the Eligibility Assessment and have documented verification of a minimum of 10 approved courses, including a course taught by a CCLS, completed prior to applying to the internship program. Please refer to the internship packet checklist for a complete listing of prerequisites.
Applicants must have at least 100 hours of student or work experience with children individually or in group settings (such as camps, day cares, developmental centers, etc.).
A practicum experience is supportive to the learning of intern candidates. The practicum experiences can include a pediatric healthcare settings, virtual or overseas opportunities. Additional hours in other settings should be included on your application, along with your knowledge skills and abilities.
The outline requirements must be met by the application email deadline for the candidate to be considered. Children's Hospital of Philadelphia does not accept "in progress" for the requirements, including but not limited to the academic course requirements, eligibility assessment and child life practicum experiences.
Interns do not need a bachelor's degree in child life. Many child life staff have degrees in child development, human development and family studies, psychology, etc.
Start/end dates
The start/end dates are established with limited flexibility:
Spring 2024 session: January 8-May 3, 2024. Application email deadline September 5, 2023
Summer 2024 session: Applications email deadline January 5th, 2024
Fall 2024 session: Application email deadline March 15, 2024
Spring 2025 session: Application email deadline September 5, 2025
Children's Hospital of Philadelphia is happy to announce its partnership with the ACLP in acceptance of the Internship Readiness Application.
*Please submit application via: childlifeinternshipapplication@chop.edu
All applications must be submitted by the application email deadline. No late applications will be accepted.
Children's Hospital of Philadelphia follows the ACLP's recommended application deadlines and process, including acceptance and offer procedures. All notification communication is through email.
Please email the Student Programs Coordinator with any questions regarding the start and end dates.
Investing in your learning
The Children's Hospital of Philadelphia supports the learning process as one that does not end once you leave the hospital. We hope to share our investment in each trainee's experience by providing a stipend, work t-shirt, textbook support and educational in-services and role play opportunities. It is our hope that by sharing these investments in our trainees, that this may lessen some of the financial burden, honor your safety and equity in learning and foster a place of respect and honor for your choice in our institution.
Apply
For more detailed information about the child life internship experience, please download the application from the ACLP site.
Application is not a guarantee of acceptance. A limited number of students will be accepted each session. The number of students accepted will vary from semester to semester due to the number of applicants and supervisor availability. Generally, we accept two to four child life interns.
Should you be selected as a candidate to interview, Children's Hospital of Philadelphia offers both virtual and phone interviews are granted. We currently do not host any in person interviews.
It is the policy of the Hospital to prohibit unlawful discrimination and discriminatory harassment on the basis of race, color, religion, sex, age, national origin, ancestry, sexual orientation, gender identity/expression, marital status, disability, veteran's status, genetic information, victim of domestic or sexual violence status or other protected classifications to the extent required by applicable laws. Such conduct is prohibited whether engaged in by fellow employees or supervisors or by outside vendors, patients, visitors or other non-employees who conduct business with the Hospital, and whether in the workplace or in other work-related settings, such as on business trips, at conferences and at business related social events.
In compliance with Title IX of the Educational Amendments of 1972, Children's Hospital of Philadelphia is committed to providing an environment free of discrimination on the basis of sex, including, but not limited to, sex-based disparate treatment, sexual misconduct and sexual harassment in all of its educational programs and activities.
Defining Diversity and Inclusion at CHOP
Diversity refers to the composition of our employees, students and patients—the variety of personal experiences, values, and worldviews that arise from differences of culture and circumstance. Such differences include but are not limited to race, ethnicity, gender, age, religion, language, abilities/disabilities, sexual orientation, socioeconomic status, and geographic region.
Inclusion refers to our CHOP culture whereby all of our employees, students, patients and families feel welcomed, respected, valued and understood. It's the way we fully integrate, leverage, develop, and hardwire the diversity of our employees and patients in everything we do, every day.
Contact us
For more information about professional education in Child Life, Education and Creative Arts Therapy, please call 267-426-2790 or email childlifestudentprograms@chop.edu.